Perfect particle size
Lindner's Urraco 4000 Series at RecyclingAKTIV 2023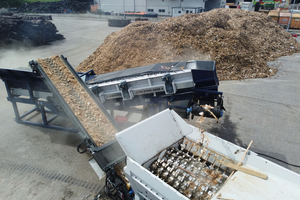 © Lindner Recyclingtech
Live in action at the RecyclingAKTIV 2023: The mobile system solution
© Lindner Recyclingtech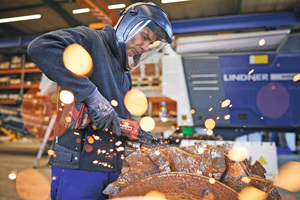 © Lindner Recyclingtech
Shaft reconditioning at Lindner's service centre in Krauthausen/Germany
© Lindner Recyclingtech
Efficient, powerful, versatile and with a comprehensive full-service package – that's how the Urraco 4000 will be showcased at this year's RecyclingAKTIV trade fair. The mobile Urraco 4000DK twin-shaft shredder and the Zeta Star 4000DK screen will be operating daily at the demonstration area Wood & Biomass with several live demonstrations.
Whether waste wood, light scrap or commercial and industrial waste – Lindner's mobile shredding solutions feature both location-independent flexibility and incredibly versatile application options. The results achieved range from efficient volume reduction to the production of specific, homogenous particle sizes, which are essential for downstream processes in particular. The diesel or optional electric drive provide the necessary versatility in terms of drive and location. Thanks to the company's customisable all-inclusive, worry-free packages, Lindner takes care of all maintenance and hardfacing, ensuring that everything runs smoothly – at all times.
The Urraco 4000 series – more versatility, tried-and-tested quality and added mobility
Versatile mobility, particularly accessible maintenance points and drive compartment, coupled with increased productivity and a consistently high output – that's the best way to describe the advantages of the Urraco shredder generation. While the Urraco 4000 series diesel models are equipped with a tried-and-tested Scania engine, the models with ABB's e-drive turn heads with a very special feature: an independent power unit which makes it also possible to move the mobile e-shredder to another location or to a workshop without a power cord.
Different cutting systems can be used for various particle sizes depending on the input material. In waste wood processing it is particularly important to maintain specific particle size standards so that the material can be used for incineration or material recovery, for example, in the production of chipboards. "Lindner's mobile shredders already achieve great results in pre-crushing. Our slowly rotating and robust cutting system succeeds in shredding the input material to a defined P100 particle size even at this first shredding stage and with the material contaminated with non-shreddables," explains Stefan Scheiflinger-Ehrenwerth, Head of Product Management at Lindner. "That's what makes our mobile shredding solution so special," he adds. Since Lindner's patented cutting system shreds particles to a homogenous P100 size in the first production step, the system solution consisting of the Urraco 4000 and the Zeta Star 4000 is used to archive particle sizes in accordance with classification P63 F5 in line with EN ISO17225-1. "The star screen of the Zeta Star 4000 series perfectly complements our Urraco 4000 series. It can be used to produce finely shredded material particularly efficiently and to a high standard," says Scheiflinger-Ehrenwerth. "During the live demonstrations three times a day at RecyclingAKTIV, trade visitors can check the quality and quantity in person."
Lindner's original spare parts & all-in-one service packages guarantee maximum availability and cost-effectiveness
The energy crisis as well as an ongoing shortage of skilled workers present major challenges for many recycling companies. Skilled personnel for the maintenance and servicing of recycling facilities and machines are in short supply. Lindner's full-service packages are the remedy. For mobile shredding, the service packages 'shaft reconditioning – mobile', the 'Urraco filter package' and associated services are particularly popular. These ensure machines offer high availability and consistently high throughput rates with companies benefitting from easy-to-calculate operating costs. More specifically, the 'Urraco filter package' includes engine and hydraulics maintenance. The benefits are obvious: regular maintenance optimises emission performance and the energy consumption of the engine and hydraulics and maximises the machine service life.
In German-speaking countries, Lindner service work is mainly carried out by the specialists at Lindner's Service Centre in Krauthausen/Germany. For years, this has also been the home of shaft reconditioning – a task that demands a great deal of know-how and precision. "When a shaft arrives here, the status check and the professional tool reconditioning start after basic cleaning has been completed," explains Claudia Damm, Customer Service Team Manager, Germany. "We have been servicing Urraco series shafts here in Krauthausen for many years, which is why our colleagues are so experienced," Damm confirms. "If a client books the 'shaft reconditioning – mobile' service package, this includes a regular and professional analysis of the cutting unit on site, as well as reconditioning by our experts," adds Martin Kombacher, Service Product Manager. "We also organise the entire shaft installation and removal at the client's premises and make sure that the necessary transport and lifting equipment is on site in time. An investment that always pays off for the client. Regular machine checks are the only way to identify the cutting edge's condition, start hardfacing in good time and subsequently optimise production conditions. The Lindner Service Team will of course also be at the RecyclingAKTIV trade fair at our booth F444 and will be happy to answer any questions about our service packages." 
Outdoor exhibition area, booth F444,
Special theme area wood & biomass