Doubling up
New RegrindPro increases production capacity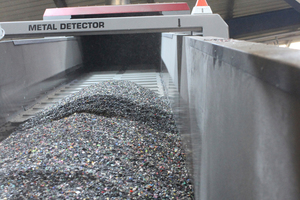 Credit/Quelle: EREMA
Regrind on the way to a further refinement stage: the new RegrindPro turns it into high-grade recycled pellets for top-quality end products
Credit/Quelle: EREMA
At PLASgran in Cambridgeshire/England, there is a growing demand among customers not only for prepared regrind but also for its further processing to make high-quality recyclate in an additional refining stage. This is why the company invested in an INTAREMA® 2018 TVEplus® RegrindPro with Laserfilter.
The high-performance new addition at the Wimblington site is designed for an annual production capacity of 18 000 t, thus doubling the previous capacity. The expectations placed on the fourth recycling machine were crystal clear: PLASgran needed a stable production process despite varying input material streams. "The INTAREMA® RegrindPro sets new standards in the recycling of regrind as the filtration of complex contaminants no longer poses a problem," says Mark Roberts, Managing Director at PLASgran.
Thanks to the high degree of flexibility of the RegrindPro machine, Roberts can process PE, PP or mixed PO materials – depending on which plastic materials are currently available in the marketplace – to make first-class recycled pellets. The flexible processing of a variety of input forms – whether it is regrind or film that is on hand – is no problem either. The scope ranges from plastic bottles to production, municipal and industrial waste. The special challenge facing EREMA as the technology provider was to free the often highly contaminated input material from residues of aluminium, wood, rubber, paper or other foreign plastics. Compared to standard recycling systems, the Laserfilter enables continuous filtration up to 70 µm, with a particularly long filter service life of more than 2000 t.
Besides filtration, the one-hour warming through of the input material in the preconditioning unit represents a key benefit over conventional extrusion plants: PLASgran can count on a stable MFI value of its recycled pellets. Up to 8 % moisture is likewise no longer a problem – while maintaining maximum throughput. The integrated EREMA Airflush system removes any coarse odours from the material prior to extrusion. By adding materials such as colour masterbatch, peroxides or calcium carbonate powder, the recycler can determine the composition of the recycled pellets down to the finest detail. Thanks to energy-saving ecoSAVE® technology, the machine – which achieves an output of 2500 kg/h – is notably frugal in terms of energy requirements. This is a decisive benefit in saving production costs.
"The INTAREMA RegrindPro from EREMA integrates perfectly in our existing recycling process. We have created a sustainable company concept featuring ultramodern separating and sorting plants, ingenious cleaning and washing facilities and now ultramodern extrusion technology. We are fit for the future, and this means high-quality recyclates which are tailor-made for customers," says a confident Mark Roberts.

www.erema-group.com
The laserfilter enables a continous
filtration up to 70 μm