Clean performance
New unit POWERFIL with strong stand-alone filters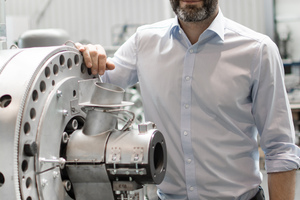 Credit/Quelle: EREMA
Robert Obermayr, the head of the new EREMA business unit POWERFIL
Credit/Quelle: EREMA
With the founding of POWERFIL, EREMA has extended its portfolio and now also offers its proven melt filters as individual components for existing extrusion plants.
In this interview, Robert Obermayr, the head of this new EREMA business unit, talks about the background and new technical developments and he explains why the Laserfilter in particular is so powerful.
POWERFIL means that EREMA will be increasing its sales activities with stand-alone melt filters. What resulted in the decision being active in this market segment as well?
Robert Obermayr: EREMA is known above all as a supplier of complete recycling systems, in which the extruder, filtration and all other necessary components form a compact unit. This is our core business, it's where we come from. We can see quite clearly, however, that the amount of heavily contaminated input materials has increased enormously in recent years – and with it the demand for particularly high-performance filtration systems. POWERFIL is our way of meeting this demand. We give users – regardless of whether they are recyclers or producers – the opportunity to upgrade their existing extruders with very high-performance filters which have been tried and tested many times.
You say "tried and tested many times", this means that the filters are existing products?
Robert Obermayr: Yes, existing filters which have been working successfully on our machines – and on extruders of other suppliers in some cases – for many years. They have been and will continue to be developed even further and excel at handling even the toughest of recycling jobs, such as the filtration of heavily contaminated municipal post-consumer waste. This is our strength and what gives us credibility. EREMA has been in plastics recycling for over 30 years and the POWERFIL filters have these genes.
A concrete question: what filter systems does POWERFIL offer exactly as individual components?
Robert Obermayr: The new business unit offers the partial surface backflush filter system SW RTF and the EREMA Laserfilter. With the optimised Laserfilter in particular we have a functional concept which unites high quality requirements and stable, inexpensive operating costs. We carried out some very effective fine tuning on this high-performance filter in 2013: thanks to the redesign of the scraper star and discharge system, contaminants are now removed extremely quickly – a clear benefit in terms of cleaning efficiency and filtration reliability. The filter was enhanced even further in 2016 and 2017, too: rheological optimisation of the support breaker plate enables even gentler filtration and in turn a reduction of flow resistance. And: a continuous filter system with a screen fineness of 70 µm is now in use for the first time.
For which applications is the EREMA Laserfilter particularly suitable?
Robert Obermayr: The high-performance filter is ideal for high contamination rates, high throughputs and when top-quality pellets are required – thus making it perfect for classic post-consumer applications. The technology, however, also plays out its strengths in another area: more and more PET customers count on our Laserfilter. The reason for this is that the increased use of rPET in end products requires high process stability despite higher degrees of contamination at times. The benefits are clear to see: the Laserfilter processes input material with a degree of contamination of over 1 % without any difficulty. The functional principle avoids dead spaces and makes for short dwell times, which in turn prevents "black spots" with PET. A system of this kind, which offers high melt and recyclate quality, has the edge especially in the case of food contact grade applications. More-over, thanks to the newly developed discharge unit, melt losses are reduced from the normal 1 to 2 % with piston filters down to a tenth.
POWERFIL advertises with the slogan "Plug in Performance". What do you mean by this?
Robert Obermayr: It's more than a slogan, it's a commitment to our customers. Performance stands for what our filters achieve: high capacities even with high degrees of contamination, recycling reliability that has been tried and successfully tested, fine filtration and perfect melt quality, high process consistency, fast amortisation and robust systems with a long lifetime, this is all performance. And with "plug in" we express that it is extremely easy for users to connect this performance package to their existing extrusion facilities: thanks to fast filter availability and only a few necessary manual steps, the customer is quickly productive.
POWERFIL – plug in
performance
With its new business unit POWERFIL, EREMA offers its successfully proven melt filters as stand-alone systems for extruders which come from an alternative supplier. The offer is centred around the extremely high-performance EREMA Laserfilter filtration systems and the partial surface backflush system SW RTF.