Commissioning of the 200th machine
High-performance entrepreneur relies on powerful shredder type TITAN 950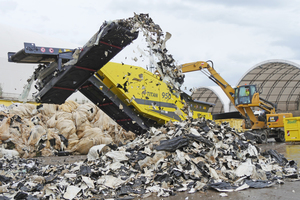 © Arjes
Immediately when the TITAN 950 was put into operation, it was possible to pre-shred cover fleece with lengths of 50 to 100 m without any problems
© Arjes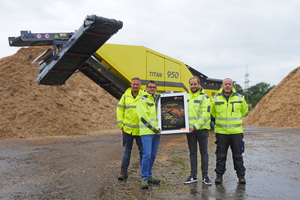 © Arjes
Handover of the 200th machine of the type TITAN 950 (from left to right Lutz Kastler, Andreas Zeller, Chris Erbe, Andreas Gruber)
© Arjes
Just like the compact IMPAKTOR shredder, which after 6 years has become an indispensable part of the recycling market, the powerful TITAN shredder has also become a guarantee of success over the past 2 years.
ARJES sales representative Chris Erbe proudly presented the award for the commissioning of the 200th TITAN 950 machine to Andreas Zeller, Managing Director of Zeller Recycling GmbH, at the beginning of July 2021. The two plant managers Andreas Gruber and Lutz Kastler were also present at the handover and the first test run of the shredder in Mutterstadt / Rhineland-Palatinate.
The Zeller company was founded in 1980 by the father of the current managing director. Werner Zeller began his service offering with waste disposal and container services. By 1988, the site had developed into an important recycling yard in the region and finally became Zeller Recycling GmbH in 1991. Since 2004, the son of the founder, Andreas Zeller, has led the team of now 150 employees in the fields of container services, waste disposal, recycling and natural energy. Today, the company extracts high-quality recyclable materials through state-of-the-art facilities to market the recovered recycling components. Green waste, waste wood, commercial waste as well as difficult challenges such as car tyres, bag bags or covering fleece from the agricultural and industrial sectors are materials that Zeller has to deal with every day.
With its latest acquisition, the TITAN 950, Zeller is relying on a machine development from ARJES: when the 200th machine of the powerful twin-shaft shredder was commissioned, it was put directly to the test. Covering fleece with lengths of 50 to 100 m, which was mainly used in agriculture to protect arable land, could be pre-shredded without any problems with the TITAN 950 at the recycling yard. Thanks to the asynchronous shredding technology of the ARJES tool shafts, the material is cut up in the best possible way and wrapping is avoided as far as possible. The shredded material is then added to the rest of the commercial waste for further processing in the treatment process.
What Andreas Zeller particularly likes about the TITAN 950 is the machine's simple and easily assessable technology as well as the variety of applications. If, for example, another system fails at the recycling yard, the contractor quickly has a redundant machine ready to bridge the gap. Thanks to the mobility offered by the machine's standard tracklaying chassis, the shredder can be used wherever it is needed. Whether for commercial and hazardous waste, waste wood, green waste or whatever else can be found on the extensive premises of Zeller Recycling GmbH. In order to protect the ground surfaces, the TITAN 950 will be equipped with additional rubber elements for the crawler chassis, promised sales representative Chris Erbe at the final meeting with the management.