Compressed
Fully automatic channel baling press for waste management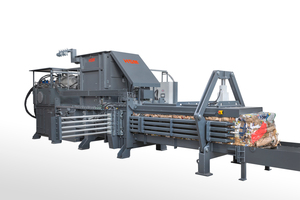 Credit/Quelle: HSM
The fully automatic channel baling press
HSM VK 6215 is the economical solution for professional waste disposers and industrial applications
Credit/Quelle: HSM
The latest addition to the extensive product portfolio of HSM GmbH + Co. KG is the fully automatic channel baling press HSM VK 6215. It is particularly suitable for professional waste management or larger industrial applications – with high throughput capacity.
With an extremely high pressing force of 620 kN, the HSM VK 6215 is suitable for a wide range of materials such as cardboard, paper and film, as well as DSD goods and PET bottles. Thanks to the large filling opening of 1500 x 970 mm, bulky material is also no problem for the channel baling press. The bottom of the compaction chamber, as well as the bottom and side panels of the baling chamber are made of high wear-resistant steel and stand for durability and quality "Made in Germany". Depending on the material, the highly compressed bales reach a weight of up to 550 kg, have a bale mass of 1100 x 750 x max. 1200 mm and are held together by a fully automatic, 5-fold wire strapping. The optimal bale sizes and bale weights guarantee efficient use of the truck. The optimally coordinated software for the respective material types guarantees a high bale quality – even with frequent material changes.
The HSM VK 6215 with frequency-controlled drive is available as an option. This innovative drive makes a significant contribution to environmental protection and efficiency, making it possible to save up to 40 % of energy costs compared to conventional drive technology – with the same performance.