With REMONDIS on behalf of the future
The white shark leaves its territory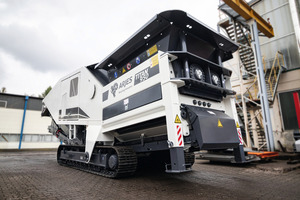 © Michaela Müller (ARJES GmbH)
The "white shark" on the way to delivery to REMONDIS
© Michaela Müller (ARJES GmbH)
Let's go for the 37-tonne TITAN 950, which has also been dubbed the "Great White Shark" among ARJES GmbH employees thanks to its unique special paint job.
After completing the mobile twin-shaft shredder for the customer REMONDIS, it was time to prepare the gigantic machine for its journey to southern Germany. Thanks to the reliable shipping partner Ender Transporte GmbH, who carried out the professional loading with great care and precision, the transfer was successfully realised. In the meantime, the TITAN 950 has arrived at its new home to shred everything that comes its way into the large-volume chipper on the disposal and recycling site. The company SWE Südwestentsorgung GmbH from Freiburg is now the owner of the powerful TITAN 950. The mobile twin-shaft shredder from ARJES was able to prevail over some of its competitors and will certainly further increase the efficiency and productivity of the waste disposal company.
REMONDIS has been setting standards in the recycling sector for years. With their innovative technologies and sustainable solutions, they make an indispensable contribution to protecting the environment and conserving resources. With around 30 million customers and the collection and processing of over 30 million t of material flows each year, REMONDIS holds the leading position on the German market.
At the same time, the IMPAKTOR 250 evo II has also found its place at REMONDIS' Magdeburg site. This is because the compact twin-shaft shredder from ARJES IMPAKTOR GmbH is also a versatile helper for the certified waste management company when it comes to processing all types of waste. Sales representative Mario Herrmann from Arjes was able to accompany the handover and commissioning. In addition, with a mobile TITAN 950 and a stationary TITAN 900 e-pu, two more orders are already in the starting blocks.