Practical
Separation of impurities with the AEROSELECTOR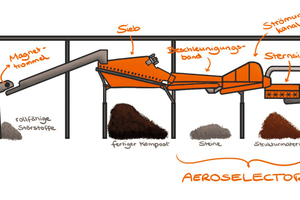 © IFE Aufbereitungstechnik GmbH
The new AEROSELECTOR extracts 4 fractions in only one pass. Integration into a plant with screen and magnetic separator brings further advantages
© IFE Aufbereitungstechnik GmbH
Remove all important fractions from the compost in just one pass? This is made possible by the new AEROSELECTOR from IFE. The new compost processing solution was already presented online on 1 June 2021. On 23 September 2021, the first live presentation followed in front of the expert audience at the IPT (International Practitioners' Day Compost) in Gneixendorf/Austria.
On 1 June, IFE unveiled the latest addition to its environmental technology portfolio: the new AEROSELECTOR – a unique combination of wind sifting, ballistic separation and screening. From moist as well as dry raw compost, it extracts stones, plastic films and valuable structural material from the screen residues in just one pass. In combination with screening and magnetic separation, there are even more advantages. The amount of compost ready for sale can thus be significantly increased and impurities can be made more usable. In over 2000 operating hours, the prototype has already convincingly demonstrated this.
More compost, less screen residues
"The first enquiries and reactions to the presentation of the AEROSELECTOR at the beginning of June show us that there is lively interest in our new compost processing solution," sums up Lukas Wagner, sales representative at IFE. "At the IPT, we were now able to present the advantages of the AEROSELECTOR live to the specialist audience." The system was exhibited there for the first time on 23 September in Gneixendorf near Krems/Austria, and put into operation on site.
The core unit, i.e. acceleration belt, flow channel and star screen, was shown in combination with the IFE Variomat. The resonance system of the Variomat ensures alternating tensioning and relaxation of the screen mats. This ensures non-clogging screening even with sticky material such as compost.
Visitors were able to see live how effectively the AEROSELECTOR separates stones, plastic films and structural material from the screen residue. "The composting plant operators were also able to see for themselves how easy it is to use and how little cleaning is required," says a pleased Helmut Tröbinger, Sales Manager at IFE.