Business cooperation as the key to success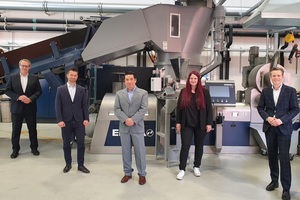 © CHASE
With the support of well-known companies from industry, CHASE is heading towards a future without plastic waste. From left to right: Patrick Pammer/Managing Director CHASE, DI Dr. Christian Marschik/Area Manager at CHASE, DI DI Chung Chi Nghia/Scientific Assistant at CHASE, DI Dr. Sophie Pachner/Process Engineer at EREMA and DI Markus Huber-Lindinger/Managing Director EREMA)
© CHASE
By 2030, 55 % of EU-wide plastic packaging waste is to be recycled. Furthermore, a future without plastic waste is being targeted. The plastics industry must therefore currently face two major challenges: The digitalisation of existing production facilities and the realisation of practical solutions for the circular economy. This requires fundamental and applied research work in the holistic view. To this end, the research team of the Austrian research company CHASE, located in Linz, is developing new methods and technologies to meet the increasing demands on the properties of plastic products and to support the industry and its companies on their way to efficient and sustainable production. 
The implementation takes place with leading companies from the plastics and recycling industry – including EREMA Engineering Recycling Maschinen und Anlagen Ges.m.b.H. "We are convinced that digitalisation in plastics recycling is an important pacemaker on the path to the Circular Economy and thus also to the sustainable handling of plastic waste. That's why we have been on board as a partner since CHASE was launched," says Sophie Pachner, Process Engineer, explaining her commitment to EREMA in this competence centre. 
EREMA is specifically involved in the research areas of "Process Digitalisation" and "Circular Process Streams". In the former, the aim is to be able to better analyse, control and optimise the processes of the machines used through the development of digital twins, so that ultimately a higher process and product quality is achieved. In the second area, EREMA, together with other project partners, is looking at how data-based knowledge management can improve the recycling process. 
Together with its Austrian as well as international partner companies, the Competence Center CHASE GmbH is pursuing the goal of developing sustainable production processes in which materials can be used highly efficiently and products can be reused as raw materials at the end of their life cycle. With this new generation of recyclates, end products can be produced in high quality and with a much wider range of applications within an optimised processing window. This development is a great opportunity for the respective company locations to take a strong pioneering role when it comes to reducing or recycling plastic waste