From press manufacturer to an internationally leading supplier of complete plants – Wolf-Gerd Dieffenbacher turns 70
17.01.2022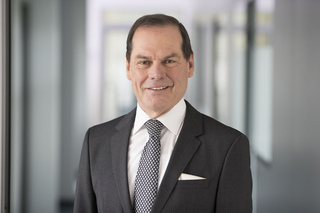 Wolf-Gerd Dieffenbacher
© Dieffenbacher

Wolf-Gerd Dieffenbacher

© Dieffenbacher

Wolf-Gerd Dieffenbacher celebrated his seventieth birthday on December 20, 2021. Until his withdrawal from the day-to-day business on July 1, 2019, the entrepreneur was active for more than 40 years in the Eppingen-based family business DIEFFENBACHER GMBH Maschinen- und Anlagenbau, which he led as CEO beginning in 1985. As a member of the Board of Advisors and in various other capacities, Wolf-Gerd Dieffenbacher remains closely associated with the company.

After completing his studies in business administration at the University of Saarbrücken, Wolf-Gerd Dieffenbacher gained his first professional experience at the machine manufacturer Pathex in Toronto/Canada. In 1979 he returned to Germany and took over the commercial management of the family business run by his father Gerhard Dieffenbacher and his father's cousin Albert Dieffenbacher. Six years later, Wolf-Gerd Dieffenbacher followed in his father's footsteps as a member of the Management Board.

"Wolf-Gerd Dieffenbacher shaped the company for decades with his landmark decision in 1989 to develop the continuous wood-based panel press," recalled CFO Volker Kitzelmann, who joined the DIEFFENBACHER Management Board in 2016 together with Wolf-Gerd Dieffenbacher's son Christian.

Internationalization and the strengthening of the company's complete plant competence highlighted Wolf-Gerd Dieffenbacher's work. His efforts to build the company's proficiency included setting up the Automation business unit and founding an external Board of Advisors. Meanwhile, he laid the foundation for new foreign subsidiaries in the United States, Malaysia, India, Russia, China and elsewhere and production sites in Canada, the Czech Republic and China. Additionally, he led the acquisition and integration of several competitors, including Schenkmann-Piel, Schenck, Maier, Metso and SWPM, transforming the company from a nationally oriented machine manufacturer to a globally focused and world-leading plant manufacturer.

The diversification of the company also bears Wolf-Gerd Dieffenbacher's signature. The DIEFFENBACHER Forming business unit, which began developing and selling presses and complete plants for metal forming in the 1950s, expanded its portfolio in the 1980s to include plants for the production of glass- and carbon fiber-reinforced composite components. Beginning in 2016, Wolf-Gerd Dieffenbacher drove the expansion of the new Recycling business unit, which became the company's third mainstay and a separate business unit in 2019. Today, DIEFFENBACHER offers wood recycling plants for the wood-based panels industry and solutions for the production of alternative fuels such as biogas or pellets.

"Beyond all these milestones and his entrepreneurial talent, Wolf-Gerd Dieffenbacher's leadership skills have always impressed me. His way of leading, motivating and inspiring people became my role model," said Kitzelmann. "Fulfilling his social and societal responsibility by training young people is just as close to Wolf-Gerd Dieffenbacher's heart as the well-being of his family, his employees and the company itself."

In times of great change, Wolf-Gerd Dieffenbacher helped develop the pure press manufacturer into an internationally leading supplier of complete plants for the wood-based panels, composites, metal and recycling industries. During this period, the company's turnover increased from 36 million euros to more than 400 million euros.

Wolf-Gerd Dieffenbacher's principal wishes on his seventieth birthday are for good health and remaining available to his company as a strategic advisor for as long as possible. He considers among his greatest accomplishments leaving the company with the strong management team of his son Christian Dieffenbacher as CEO and his fellow members of the Management Board, CFO Volker Kitzelmann and CTO Lothar Fischer.