New precision rotor for waste wood recycling
Wagner Magnete launches the largest non-ferrous separator in the company's history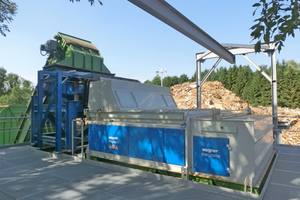 Credit/Quelle: Wagner Magnete
Wagner's new non-ferrous separator with special technical innovation
Credit/Quelle: Wagner Magnete
A non-ferrous separator (NF separator) with special technical innovations is the answer of Wagner Magnete to the ever-increasing product flows in waste wood and bulky waste processing.
Thanks to new, sophisticated balancing techniques, the latest eddy current separator with eccentrically mounted rotor system can now also be used with a working width of 3.0 m and a rotor speed of 3000 revolutions per minute. With the very high pole changing frequency, the 5-t heavy NF separator can process up to 50 t/h of recycling waste wood without having to distribute the material flow over two lines in a costly and time-consuming process. The new Wagner technology of the 0429 series is the largest NF separator the mechanical engineering company from Heimertingen (Allgäu) has launched so far. Magnet technology from Wagner can be found in waste wood processing plants worldwide. 
"The precision rotors of our new NF cutting-edge technology increase throughput by a whopping 50 % compared to the previous standard machines with a working width of 2000 mm. Thanks to the large working width, it is no longer necessary to divide the mass flow between the units. Bottlenecks, constrictions and critical interference contours in the material guiding can thus be avoided", says Wolfgang Wagner, Managing Director of Wagner Magnete. First, Wagner magnetic separators withdraw the coarse iron from the material flow to enable mills to chop the wood into woodchips. Extremely strong magnetic drums made of rare-earth magnetic material subsequently remove all nails and screws released during comminution. Afterwards, the wood chips are fed to a non-ferrous metal separation.
The wood chips removed from the metal are often processed by chipboard factories, whose requirements are strict: in order not to impair the production processes, the metal content in the wood supplied must be extremely low.
The advantages of the non-ferrous separator of the 0429 series at a glance
Robust design
High operational safety
Low-maintenance design
Eccentric, adjustable magnet rotor
Very deep penetration
Maximum magnetic volume
Highly-coercive magnet material
Fast pole changing frequency due to 3000 1/min rotor speed
Effective residual iron separation by upstream connected neodymium magnetic drum