Powerful and versatile
The new DW 308 Rhino comminutes even the most difficult material, and works day and night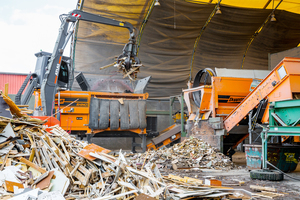 Credit/Quelle: Doppstadt
This machine shreds industrial, commercial and domestic waste, mixed building waste, biowaste and railway sleepers, garden waste, tree-trunks and roots
Credit/Quelle: Doppstadt
Environmental-technology specialist Dopp­stadt's new DW 308 Rhino shreds everything fed to its rollers: industrial, commercial and domestic waste; mixed building waste, biowaste and railway sleepers; garden waste, tree-trunks and roots. Its favourite work is in high-throughout preparation facilities, where it reliably reduces particle size and prepares the feed material for further use or valorisation. Concrete, steel and iron are virtually the only things it can't handle.
This new roller crusher fits in well wherever waste needs to be processed at throughput rates of 40 t/h and above. Its robust steel construction assures maximum durability and long service-lives. The stationary DW 308 Rhino solution is scarcely susceptible to problems and operates with long servicing intervals, with correspondingly high availability. Doppstadt also pursues new paths in drive technology in the DW 308 Rhino: its predecessor still had a DC motor with a rectifier, whereas the new machine features a robust, maintenance-free AC drive system with an ultra-modern control arrangement. Doppstadt Vario
Drive makes the machine more efficient and more productive. Furthermore the new DW 308 Rhino also features the QuickChange system that enables the machine to be converted from S-teeth to XL-teeth or from M-teeth to L-teeth with a minimum of effort.
Henning Strunz, CEO of Doppstadt Systemtechnik GmbH: "The new DW 308 Rhino is the largest stationary roller crusher in the Doppstadt range. It combines optimum technologies in a robust and durable machine frame to assure easy operation and efficient mastering of even the most difficult tasks at the highest possible throughputs and with great versatility. This makes it a worthy successor to our tried and proven – and exceptionally robust – DW 3080 E2 Mammut, the model it replaces." The DW 308 Rhino can be ordered right now.