SENNEBOGEN: compact material handler for the waste industry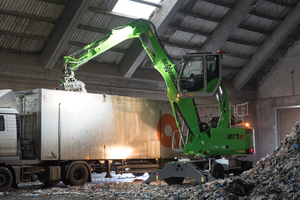 Credit/Quelle: Sennbogen
The SENNEBOGEN 817 E-series is a compact material handler offered by SENNEBOGEN with a reach of up to 9 m and an operating weight of around 17 t for waste recycling tasks. The first machines have proved successful in operation at Meinhardt Städtereinigung
GmbH & Co. KG
Credit/Quelle: Sennbogen
Making its debut at the end of 2017 and developed specifically for the needs of the recycling and waste industry, the 817 E-series is SENNEBOGEN's smallest material handler to date. The first machines are now proving successful in applications in the field, testament to the merits of the particularly compact and agile design of this green sorting specialist. We took a closer look at the new green addition in action at Meinhardt Städtereinigung GmbH & Co. KG in Mainz/Germany. 
A waste disposal company operating in the Rhein-Main region, Meinhardt has been efficiently disposing of, processing, and recycling waste for over four decades. Its ingenious disposal concept supports the end-to-end processing of waste products and recycling materials.Meinhardt has been using SENNEBOGEN material handlers in its sorting and loading process for almost 20 years.  The launch of the new SENNEBOGEN 817, which coincided with the 65th SENNEBOGEN anniversary celebrations in Straubing in the fall, marks the addition of the smallest material handler to date to the green portfolio.
The new SENNEBOGEN 817 material handler tidies up, sorts, moves material, and is simple and compact – making it ideal for use in waste recycling. It even copes extremely well with demanding conditions such as dust, heat, and continuous loading. This is evident most of all when the machine is using its sorting grab to load shredded industrial waste onto trucks in the huge hall. On board in the height-adjustable cab today is SENNEBOGEN test driver Thomas Bugl, who is currently training drivers to use the new machine. From a height of approx. 4.50 m, as well as having an unrestricted view of the area in which he is working, he is also able to show us just what the little powerhouse is capable of. The trucks are loaded with waste quickly by the ton. Illumination is optimized thanks to a comprehensive lighting package on the machine featuring LED headlights.
Compact dimensions and a 9 m range – ideal for recycling
With an operating weight of around 17 t and a range of up to 9 m, the new 817 E machine class is deliberately positioned below the existing SENNEBOGEN material handlers. The SENNEBOGEN 817 E is just 2.54 m wide, 4.61 m long, and 3.20 m high.
"Precise sorting, highly responsive control, and of course speed when loading waste on arrival at the facility and onto trucks ready for departure are key requirements in our sector," says facility manager Frank Kühnle knowingly. "The machines also have to be capable of maximum reliability and require minimum maintenance in continuous use," he adds.
It's not only during operation in halls with low ceiling heights or in narrow loading spaces that the compact material handler plays to its strengths. Equally impressive are the numerous sophisticated features that are delivered as standard with this recycling specialist. One such standard feature, the reversible fan, can be relied on for uncompromising dust discharge, and inverting the position of the hoist cylinder prevents dirt accumulating during continuous operation. All components – the large thermostatic radiator, pipe fracture safety devices, hard-wearing side cover made from sheet steel, and solid equipment, for example – as well as the SENNEBOGEN grapple (an in-house design), are dimensioned for continuous use in recycling applications. A variety of optional special equipment features and safety systems from cameras through protective grating completes the range. What's important for drivers is of course the new Multicab cab – after all, this is where they have to spend all day. Ensuring that they remain focused and work safely isn't a problem thanks to the brand new ergonomic joystick design, all-round safety glazing, and the standard comfort seat, along with numerous other features.
//www.sennebogen.com" target="_blank" >www.sennebogen.com:www.sennebogen.com
Hall C5, Stand 241/340