Black Beauty near Nuremberg's inland port
Scrap recycler SWRN GmbH relies on SENNEBOGEN material handler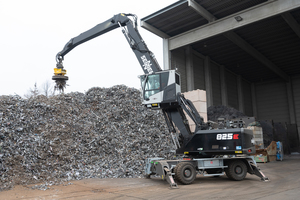 Credit/Quelle: Sennebogen
Efficient and flexible: the SENNEBOGEN 825 E working in Nuremberg with an orange peel grab and a scrap magnet
Credit/Quelle: Sennebogen
Since the end of 2018 there has been something new to catch the eye in the industrial area of Nuremberg's port – an 825 SENNEBOGEN E-series material handler painted black, the color of choice for SWRN GmbH, but still green at heart. The family company uses the mobile scrap specialist with a 129 kW diesel engine for on-site sorting, loading and processing of old scrap.
Each month 4500 tons of mixed old scrap are delivered to the 12 000 m² site to be processed and recycled. It consists mainly of non-ferrous metals and scrap cable that can be processed further both nationally and internationally. "We need specific storage areas for the 50 different types of scrap that we sort on a daily basis and this automatically reduces the space we have for machines. For this reason, we need a very agile but at the same time robust solution, which we have found in our SENNEBOGEN 825 E," explains SWRN's Technical Director, Robin Reindel.
In addition to the machine's compact size, the stick's quick change system contributes to the machine's on-site flexibility. "We can react quickly to the different material types and, where necessary, switch immediately between the orange peel grab and the magnet plate," says Reindel.
Multi-functional, safe and comfortable
The standard at SENNEBOGEN is to never build a standard machine – this is true of SWRN's 825 E which has numerous features that cater for the customer's individual requirements. In addition to the extraordinary customer-colored paint job, those responsible also chose the spacious Maxcab Industry, which can be elevated by up to 2.7 m, with continuous windshield and bullet proof glass. This guarantees that the operator can both see their work area without anything getting in the way and also be as safe as possible.
The 14 m long equipment is perfectly suited to the challenging tasks on site. The quick change system means that the orange peel grab or the magnet plate can be fitted in minutes. The magnet plate is run from an additional 15 kW magnet generator. The generator and the machine's hydraulic system are finely coordinated to achieve the best energy efficiency levels.
Personal service
In addition to the quality of SENNEBOGEN's material handlers, Robin Reindel says the intensive personal contact from sales and service partner IBS Baumaschinen was also a decisive factor in the purchase decision. "Our contact person is just around the corner, in the neighborhood. We know that we can expect any service related queries to be handled quickly and reliably, which is very important to us!"