Safely to the destination
Pipe belt conveyors are extremely energy-efficient in the transport of all kinds of bulk materials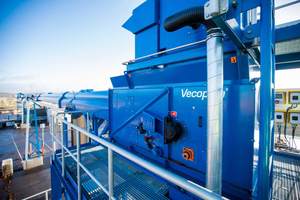 Credit/Quelle: Vecoplan AG
The pipe belt conveyors of the VecoBelt series transport bulk material without losses
Credit/Quelle: Vecoplan AG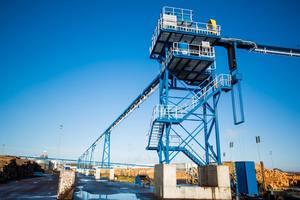 Credit/Quelle: Vecoplan AG
The VecoBelt can convey the secondary material over a length of up to 430 m and with a volume flow of 1000 m3/h
Credit/Quelle: Vecoplan AG
With its VecoBelt series, Vecoplan offers pipe belt conveyors that are ideal for transporting almost all types of bulk materials, including processed industrial and production waste – and the company has now enhanced the system by implementing a roller-free belt return. VecoBelt conveyors are particularly well-suited for bridging long distances – and gradients along the conveyor route are also mastered easily.
To reduce the use of expensive primary fuels such as coal and oil, so-called alternative fuels and raw materials are increasingly being used, even in the energy-intensive production of cement. These materials, consisting of high-calorific waste such as plastic and packaging waste, paper, composite materials and even textiles must first be processed and made ready for the furnace. Vecoplan's VecoBelt is a completely closed transport system that conveys this material mix safely – with neither losses nor emissions.
Vecoplan has further developed this series in all belt widths and the conveyor belt is now supported by an air cushion in both the belt feed and belt return. This is advantageous for users, since the idlers in the feeder section and the return rollers are no longer required – and that means little or no roller maintenance. Thanks to the belt being carried by a cushion of air, only very minor frictional losses occur during operation – and the system also runs very quietly.
Each drive station is equipped with two scrapers. Operators can adjust the front head scraper and the carbide scraper from the outside and the components can be retightened quickly and easily with a ratchet. The front head scraper is flexible, yet strong enough to remove impurities from the belt. The carbide scraper ensures thorough cleaning and also removes firmly-adhering belt dirt. More scrapers in the weight tensioning stations reduce maintenance time even more, increasing the availability of the systems while reducing material carry-over.
The VecoBelt can convey bulk material over a length of up to 430 m and with a volume flow of 1,000 m³/h. The belts in the series run at a speed of 2.5 m/s. The conveyor system is quick and easy to install and thanks to its segmented design, no additional steel structure is needed. The system is also stable and lightweight. The spacing between the individual supports can be up to 75 m – considerably reducing the material costs for supports. Gradients of up to 18.5 degrees are possible. The VecoBelt series consumes about half as much electricity as conventional roller conveyor systems.
//www.vecoplan.com" target="_blank" >www.vecoplan.com:www.vecoplan.com