Networking as a recipe for success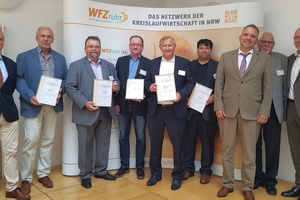 Credit/Quelle: WFZruhr
From left to right: Dr. Hildebrand von Hundt (WFZruhr), Bernd Bertram (USB Bochum), Helmut Gravert (BK Werne),
Peter Koll (Ossendot Umweltschutz), Stephan Kaiser (AGR), Dr. Dirk Wiegand (SASE),
Christian Kley (member of the board WFZruhr); Rolf Mross and Prof. Dr.- Ing. Ralf Holzhauer (WFZruhr)
Credit/Quelle: WFZruhr
On the occasion of this year's Assembly of Members of the WFZruhr (Lünen), 12 companies from North Rhine-Westphalia could be honored for their 10 years of membership. "The members who celebrate the jubilee this year once more emphasize the unique cross-industry character of the company network: municipal and private disposal companies took advantage of the versatile offer of the WFZruhr just like companies from the field of thermal treatment and landfill of waste; furthermore, environmental analysts, logistic firms and suppliers belong to it as well as companies from the sector of education and further training which has become increasingly important," Dr. Hildebrand von Hundt, Office Manager is pleased to say.
This year, the certificates for 10 years of membership were awarded to the following companies: AGR (Herten), Containerbau Gerbracht (Fröndenberg), Frhr.-vom-Stein Berufskolleg Werne, Lobbe Entsorgung (Iserlohn), Ossendot Umweltschutz (Kamp-Lintfort), Remondis Recycling (Essen), SASE (Iserlohn), USB Bochum, Weidemann (Beckum), Wessling (Bochum), Wirtschaftsbetriebe Duisburg and the Zentrale Betriebshof Gladbeck.
Further information:
Dr. Hildebrand von Hundt;
E-mail:
mobile: 0172-59 59 349