Triple care for more security
Large-volume document shredders dispose of sensitive data waste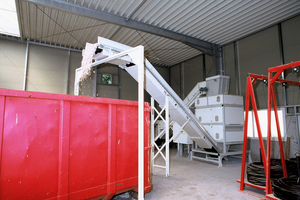 © HSM
The HSM TriShredder 6060 makes sensitive data carriers unrecognisable in three shredding stages
© HSM
With its three-stage shredding, the HSM TriShredder 6060 is ideally equipped for handling large quantities of material of up to 2.5 t/h at security level P-3 or 2 t at security level P-4. Precisely against the background of growing demands on data protection and corporate security, this large-volume document shredder provides valuable services.
Documents from banks, authorities, post offices, large companies and insurance companies etc. that are no longer needed cannot end up in the waste-paper bin without having first been shredded. This is because they contain a wealth of confidential information and personal data that are subject to data protection and thus need to be destroyed in compliance with the GDPR. In addition, this data is not only in the form of paper, but also in that of credit and customer cards, chip cards, diskettes from archives and CDs.
The HSM TriShredder 6060 has a particular way of taking these requirements into account. The fully automatic shredding system makes sensitive data carriers unrecognisable in three shredding stages. The three cutting units have a working width of 650 mm, which first cut the material into tiny particles via a pre-shredding stage and then two post-shredding stages. With three-stage shredding, security level P-3 or P-4 (pursuant to ISO/IEC 21964) can be achieved. In combination with a baling press, it becomes a complete disposal system. A positive side effect is that the security level is further increased by the compression.
Automatic continuous operation
The overall system control is designed for automatic operation. The material is fed to the pre-shredder's hopper via a conveyor belt. Photoelectric sensors monitor the hopper and – in the event of overfilling or material jams – they automatically stop the conveyor belt, and the system reverses. This brings the conveyor belt to a standstill until the material is shredded, which prevents further material jams caused by uncontrolled feeding. The material then passes through the two further shredding stages – controlled again by several photoelectric sensors – and can then be compressed by a baler into transportable bales. If the HSM TriShredder 6060 is used in continuous operation, it is recommended to connect a press.
Smart design
High-quality cutting shafts are used in all shredding stages. The four-shaft system of the pre-shredder has an extremely intelligent design, consisting of two intake shafts and two cutting shafts. The special arrangement prevents disruptive bridging of the material and enables an even flow of material. The cutting units can be optimally matched to each other so they can reach their maximum speed. The energy-saving frequency converter ensures gentle motor start-up and overload protection. The mechanical output mechanism for the second and third shredder stages is optional. The degree of shredding can be selected individually and as required.