Eggersmann: new machine for biological drying and composting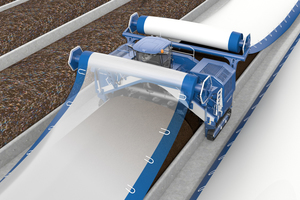 Credit/Quelle: Eggersmann
BACKHUS CON 60 combines the proven BACKHUS turning technology with the flexible CONVAERO system
Credit/Quelle: Eggersmann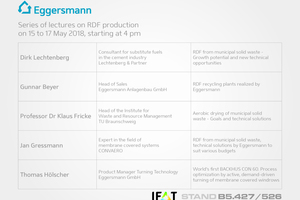 Credit/Quelle: Eggersmann
Those who come to the IFAT to inform themselves about the latest technologies and methods of producing refuse derived fuels, should head to the Eggersmann stand
Credit/Quelle: Eggersmann
In recent years, the Eggersmann Group greatly broadened its range of products and services by acquiring various companies and brands. On some 750 m2 of exhibition space, visitors of this year's IFAT will experience a myriad of solutions in the field of mechanical and biological waste processing as well as mobile and stationary product innovations in the area of shredding, screening, separating, turning and bag opening. A designated series of lectures focussing on RDF production, the premiere of the BACKHUS CON – a machine for biological drying and composting – as well as interactive virtual reality applications round off Eggersmann's presence at this year's IFAT.
One of the world's leading consultants for refuse derived fuels in the cement industry, Dirk Lechtenberg, will provide insights into the topic in his lecture titled "RDF from municipal solid waste - growth potential and new technical opportunities", followed by Gunnar Beyer, Head of Sales of Eggersmann Anlagenbau GmbH, who will present RDF reference plants built by Eggersmann. After that, Professor Dr Klaus Fricke, the head of the Institute of Waste and Resource Management at the Technical University of Braunschweig, will shed light on the goals and technical solutions of aerobic drying while Jan Gressmann, an expert for membrane-covered systems and representative of the Eggersmann brand CONVAERO, will talk about technical solutions for RDF generation from municipal solid waste fitting various budgets. Concluding the series of lectures, Thomas Hölscher, Product Manager for Turning Technologies at Eggersmann GmbH, will present to the audience the world's first BACKHUS CON 60, a newly developed machine that enables efficient turning in a closed membrane system.
BACKHUS CON 60 combines the proven BACKHUS turning technology with the flexible CONVAERO system, allowing for efficient turning in lanes for composting and biological drying of municipal solid waste and organic wastes, digestate and sewage sludge. The turner is equipped with a crawler chassis used to run along the lane walls while turning within the walls. BACKHUS CON 60 is furthermore equipped with two membrane winders that simultaneously wind and unwind the membranes during the turning process. This ensures a virtually closed system even during turning. This innovation from Eggersmann is also available for lane widths of 7.5 m (BACKHUS CON 75) and 10 m (BACKHUS CON 100).
BACKHUS CON 60 can be viewed at the stand. Inside the operator's cab, both the turning process with BACKHUS CON 60 as well as with a standard windrow turner BACKHUS A 55 can be simulated using provided virtual-reality goggles.
Another system on site is the DM Digestate Mixer, a machine used for the optimal production of mixes from digestate, sewage sludge and the like on the one hand and structuring materials such as green waste, raw compost and screen overflow on the other. The system of mixing the substrates with the aid of mixing rollers in the material flow effectively prevents compaction or kneading effects and loosens up the substrate. This is of great benefit for aerobic post-treatment of the substrate. DM furthermore excels with its high throughput at great resistance against impurities, which allows for its optimal integration into the automated material flow of a system as well as into a downstream batch system.
Yet another focus of Eggersmann's presence at this year's show is in the field of shredding, represented by the mobile universal shredders TEUTON Z 55 and FORUS SE 250 in the exterior area as well as the stationary version of TEUTON, the TEUTON ZS 55 in the hall. The latter currently ranks among the most versatile stationary shredders on the market, offering a great range of applications thanks to its unique screening basket system.  The machine can be flexibly set up to account for the given framework conditions such as input material, throughput and desired end grain size and can thus be incorporated into existing recycling processes and plants with ease. Thanks to its sturdy steel construction, TEUTON ZS 55 can deal with extremely high stress and thus delivers a continuous shredding process as well as a uniform discharge of shredded material to the downstream conveying systems. TEUTON ZS 55 only requires minimal maintenance. The daily check requires nothing more than opening the shredding chamber via the machine's touch panel, providing safe and comfortable access.
At this year's IFAT, Terra Select presents Terra Select T 60, an absolute classic in the field of screening machines that boasts a myriad of detail solutions. A high throughput capacity of up to 200 m³/h with powerful, fuel-saving and energy-efficient engine performance is what distinguishes this powerhouse. Optional additional equipment such as star screening decks or windsifters can also be operated reliably via this unit. Terra Select T 60's further benefits include its super-long belts that are road-legal as well as its super-wide, continuously variable oversize grain belt. Additionally, the T 60, which can be tailored to customer wishes, is extremely easy to maintain, for instance coming with automatically tilting brush cleaning springs. What's more, its pivoting infeed makes daily manoeuvring of the machine also an easy exercise for the operating personnel.
In the exterior area between halls B5 and B6, Terra Select will furthermore present a trade fair innovation in the field of trommel screens, heralding in a new era within its trommel screen range. The newly developed Terra Select T 55 closes the gap between the T 50 and T 60 models and excels – just like the other Terra Select trommel screens – with innovative solutions and flexible handling. The T 55's drive system is even compatible with both Terra Select trommel screens and screening drums produced by other brand manufacturers.
Also outside, bag opening, dosing and sorting system specialist BRT HARTNER will present its brand new, hydraulic bag opener BOH 17. In addition to the proven functional features of bag opening, the main focus of the BOH series is on user-friendliness and automation. Thus, the feed hopper of the machine can be extended as required due to its segmented construction. In addition, an integrated WI-FI interface – in conjunction with a tablet – enables the loading personnel to interact directly with the machine. A sophisticated system of sensors and optical-acoustic signal transmitters also allows for the optional feeding of the machine. The latest highlight is an optional camera system to monitor the material flow.
//www.f-e.de" target="_blank" >www.f-e.de:www.f-e.de
Hall B5, Stand 427/526