ICBR 2022 Call for Papers is now open
25.03.2022
We are happy to announce that the next International Congress for Battery Recycling #ICBR2022 is taking place in Salzburg/Austria, from September 14 to 16, 2022.
Are you interested in holding a presentation? If so, please send a short abstract with your key message to info@icm.ch before April 30, 2022.
Join the Black Mass and recycling efficiency workshop and view the newest technologies showcased by the biggest names in the battery recycling industry.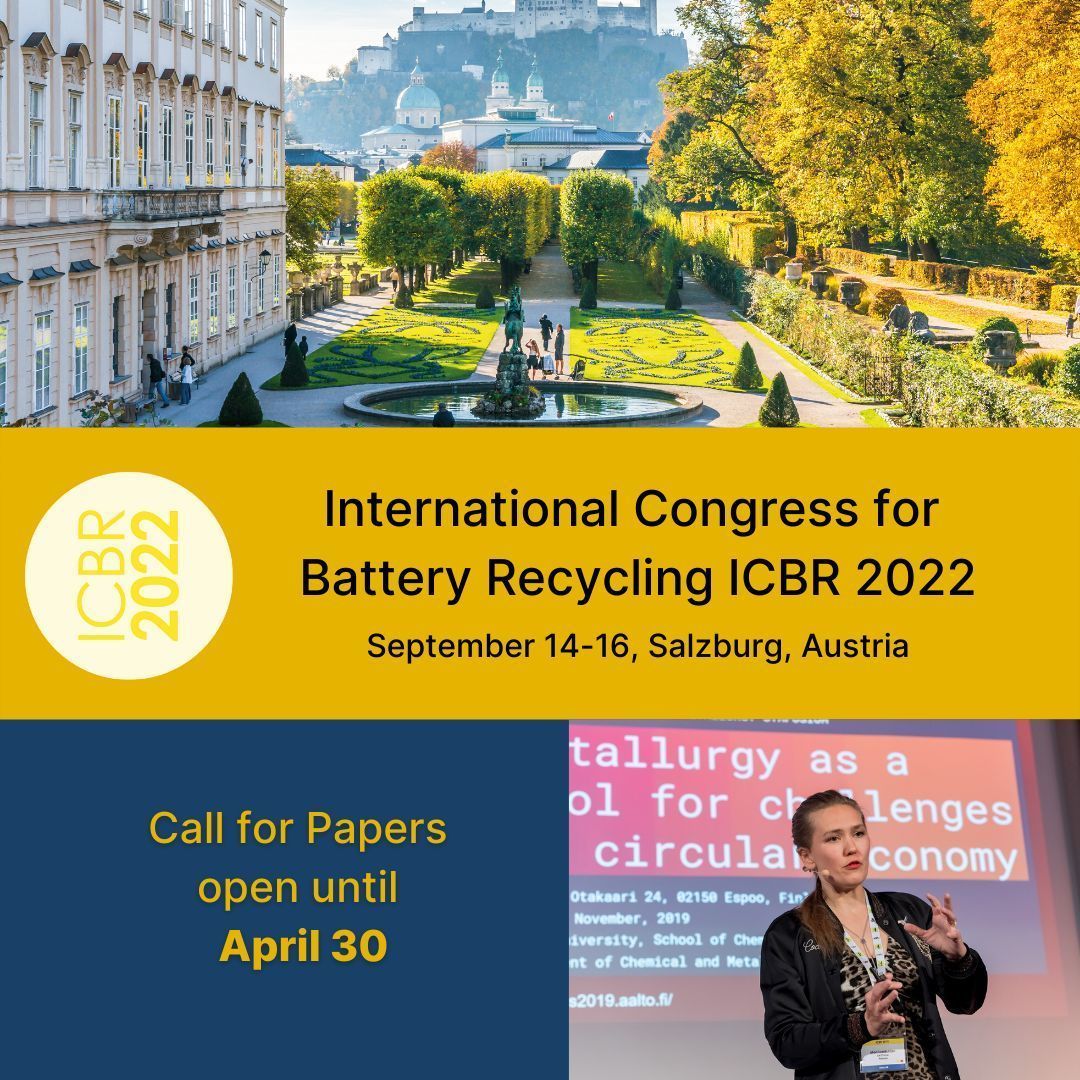 © ICM AG ICBR 2022 is the international platform for reviewing the challenges faced by the Battery Recycling Industry on a global basis. For 26 consecutive years, ICBR has brought together the international community of experts and decision makers of the entire Battery Recycling value chain, including battery recyclers and manufacturers, collection organizations, OEM's, policymakers, materials and services providers and many more.
Topics
The impact on the battery recycling industry of accelerating market growth and greener waste regulations
1. Impact of the circular economy and Battery Regulation on the battery industry
– The EU Green Deal and Battery Regulation
– Global and European battery recycling capacity
– Carbon footprint
2. Innovative approaches in battery recycling
– The recovery rate of active materials from waste batteries
– The use of recovered materials in new batteries
– The Battery Passport: a tool for producers and recyclers?
3. Global and EU Battery Collection and Recycling policies
– Market overview and growth opportunities
– Battery Collection and Recycling programs: associations and country reports
– From legislation to regulation: a major challenge!
– New challenges for the take-back of e-bikes, industrial and electric vehicle batteries
4. Battery technology, remanufacturing and/or repurposing
– The role of battery diagnosis at end of life
– Re-use and second use – market drivers
– New battery technologies
5. From battery manufacturing to active material recycling
– Critical raw materials: the life cycle of lithium and other battery materials
– Next generation battery recycling technologies: from bulk treatment to specific active material recovery
– The impact of vehicle electrification on the battery recycling market
Exhibition
The exhibition area offers delegates the chance to network and build great relationships. Promote your products to all congress attendees and book your booth today!
For more information about the program that awaits you during ICBR, please visit:
https://icm.ch/images/congress/icbr/pdf/Call_for_Papers_ICBR_2022.pdf