Designed by STADLER Anlagenbau GmbH
Waste is turned into recyclables and solid secondary fuels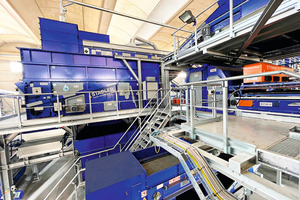 © STADLER
The recycling plant designed by STADLER extracts solid secondary fuels (SRB) from industrial waste
© STADLER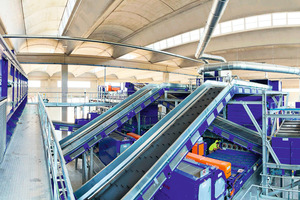 © STADLER
TOMRA near infrared (NIR) sorters eject plastics for recovery from the material stream
© STADLER
Porcarelli Group is an Italian company that operates across the entire waste chain – from collection to transport, all the way to the valorisation of waste as raw materials. Luciano Porcarelli, co-owner of the group with his brother Giuseppe, explains: "Our company was founded over 50 years ago out of the conviction that waste can replace raw materials in industry, safeguarding natural resources."
The Group operates five plants with the aim of returning waste into the production cycle, reducing the consumption of virgin raw materials and energy. To date, its plants have recovered over 3 million tonnes of recyclable fractions.
When planning its Eco.Ge.Ri plant dedicated to the production of Solid Recovered Fuel (SRF) from industrial waste, which was inaugurated in 2022 in Finale Emilia (Modena), the Porcarelli Group trusted STADLER for its cutting-edge sorting technology, its expert design, professional and fast installation, and TOMRA for its advanced sensor-based technology. "We have been successfully collaborating with STADLER since 2012. When we decided to build a new modern plant in Finale Emilia STADLER was the obvious choice," says Luciano Porcarelli. "Its experience in different waste sectors was invaluable to help us design a flexible and robust plant." The Eco.Ge.Ri plant is one of the most innovative facilities of its kind in Europe and diverts from landfill approximately 150 000 t/a of waste that cannot be further recovered.
This project, with Eco.Ge.Ri's innovative vision, STADLER's engineering expertise in the design and construction of custom-made recycling plants, and advanced sorting solutions, demonstrates that waste management can be sustainable and cost-effective, and contribute to preserving natural resources and reducing our overall environmental impact.
Extreme flexibility, high throughput, consistently high-quality output
Gruppo Porcarelli's requirements for the plant were clear: they needed a facility capable of very high throughput with the flexibility to process a variety of infeed materials while maintaining a consistent high quality of the output across the process with maximum recovery of recyclable materials.
STADLER presented an innovative design concept: "We combined our ballistic separators and high-speed acceleration conveyors with film stabilizer, which ensure excellent materials selection and PVC control," says Pietro Navarotto, STADLER Sales Director Italy. The design delivers on all counts: "The plant receives industrial waste from different sources with an input capacity from 20 to 30 t/h. It successfully recovers iron, aluminium, multiple types of plastics – PET, PEHD, PELD, PP, PS, PU – paper and cardboard, and of course very high-quality SRF."
The design addressed the challenge of the variability of the infeed materials with two infeed lines, which can be used independently or together, depending on the quality and density of the material. The first line feeds the material to a STADLER trommel screen for size selection (< 60 mm; medium size 60 mm to 350 mm; and oversized > 350 mm), while the second line has a shredder for size reduction followed by a further STADLER trommel screen for size selection.
Materials in the 60 to 350 mm range go through two STADLER STT5000_8 ballistic separators to sort out fines, 3D and 2D material. This is STADLER's all-rounder, ideal for separating pre-sorted MSW, moderately heavy and heavy materials. STADLER's new high-speed acceleration conveyor with the new STADLER film stabilizer transports the 3D and 2D materials to TOMRA near infrared (NIR) sorters at speeds of 4.5 m/s. Two of the sorters eject plastics with high chlorine values from the 2D stream, while the other two sort plastics for recovery from the 3D stream, and the remaining material goes to SRF. A TOMRA RDF analyses the SRF, checking in real-time the output material quality in terms of calorific values, humidity and product composition to ensure they meet the requirements for usage.
Smooth and timely commissioning
The Eco.Ge.Ri plant was designed and built in record time, completed on time in just three months. Due to the tight schedule, installation was done while the building was still under construction. STADLER's careful planning and coordination with the construction companies involved on site ensured timely commissioning, with start up on 6 June 2022. This capacity as a standout benefit in this project for Luciano Porcarelli, who appreciated the most "without doubt STADLER's flexibility in approaching all the difficulties we had building a new plant with different civil companies working at the same time. Their experience in complicated assemblies has been really helpful."
Eco.Ge.Ri is the second plant that STADER has designed and built for Gruppo Porcarelli: "in 2012 we built a waste treatment plant for the recovery of raw materials and production of SRF, and since then we've had a very successful collaboration," says Pietro Navarotto. STADLER's approach to designing and building sorting plants with a strong local team backed by its Head Office organization has once again proved effective, as Luciano Porcarelli highlighted: "STADLER managed all the project design from their Italian branch. We really appreciated this local approach because it made the communication between companies much faster and easier."