Lindner & Erema
Together the new benchmark in plastics recycling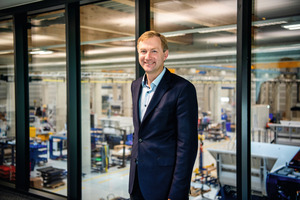 © Lindner Recyclingtech
Michael Lackner, Managing Director of Lindner: "With the founding of the new company, we want to revolutionize plastics recycling and, above all, set new standards in terms of quality, quantity and efficiency."
© Lindner Recyclingtech
Vision – One Goal – One Company. The future is plastics recycling, the owners of Erema Group and Lindner Holding agree. The jointly founded holding company BLUEONE Solutions aims to leverage both companies' expertise and jointly execute research projects to create industry standards in plastics recycling.
From waste to recycled granulate, potential new raw materials pass through several different recycling processes. These range from sorting, shredding, washing, and drying to extrusion, including filtration, compounding, and odour optimisation. The challenge for the industry lies precisely in fine tuning these individual recycling steps – in particular when energy efficiency and high recyclate qualities are to be achieved. The founding of BLUEONE Solutions, a company which is owned 50:50 by the Erema Group and Lindner Holding and to which shares of Lindner Washtech were contributed, is that very starting point. The know-how and experience of Lindner Washtech will be combined with that of the extruder manufacturer Erema. They aim to significantly increase the added value and set industry standards by adjusting and optimising processes and conducting joint research projects. New paths on all too new familiar terrain since the experience of the two companies speaks for itself: the Erema Group has been active in plastics recycling for 40 years and is considered the extrusion market leader. Lindner, a quality manufacturer of shredders and recycling facilities for the waste management industry for the past 75 years, has established a world-wide presence with the Lindner Washtech brand as a washing facilities specialist in the past 10 years. Joint research projects, such as the pilot facilities in the LIT Factory at the Johannes Kepler University (JKU) Linz, allowed the companies to enter into a close technical exchange years ago.
A common vision
For a long time now, the two companies have been united by their common vision of expertly driving forward plastics recycling. The ever-increasing challenges in the plastics recycling market ultimately led to the founding of BLUEONE Solutions: "As the respective industry leaders, we recognised the need for process optimisation some time ago. Only when waste streams are optimally used, can the required quantities of regranulate be made available and only if the processes between the individual recycling steps are perfectly adjusted, can an increase in efficiency and quality optimisation be achieved. A functioning circular economy is only possible by merging waste management with recycling management," Michael Lackner, Managing Director of Lindner, is convinced. "Our common goal is clearly to set new industry standards," adds Lackner.
Optimising recycling processes
Founding BLUEONE Solutions clearly puts the focus on the further development of plastics recycling. Lindner contributes its experience in processing waste streams and its expertise in washing, and Erema its know-how in extruding and filtering. In the future, the exchange of knowledge and new research projects will not only enable synergies to be exploited, but above all, it will optimise the overall cycle. "A functioning recycling industry demands a focus on the entire process and value chain from waste collection and processing to recycling and the final plastic product. Thanks to this merger, Erema and Lindner will create a better overall understanding to jointly shape the necessary further development, especially in the polyolefins sector," explains Manfred Hackl, CEO of the EREMA Group. "In detail, the recycling extruder, the upstream washing system and material handling can be optimally coordinated so that quality standards can be ideally met and energy optimised – thanks to cross-process control & monitoring, supported by digital solutions. In the future, we will offer optimally coordinated all-in-one solutions that will enable our clients to buy a total package that is perfectly tailored to their needs."