Higher capacity
Terex Trucks increases productivity at Scottish waste
recycling centre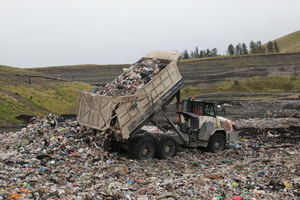 Credit/Quelle: Terex Trucks
The TA300 articulated hauler was customized and fitted with a high capacity waste body
Credit/Quelle: Terex Trucks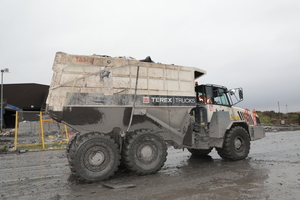 Credit/Quelle: Terex Trucks
The carrying capacity of the TA300 increased from 17.5 m3 to 27.7 m3
Credit/Quelle: Terex Trucks
Thanks to its specially designed high-volume waste body, a customized TA300 articulated hauler from Terex Trucks is making light work of clearing waste at a recycling centre in Ayrshire/Scotland.
Glasgow-based Clearwater is considered one of the UK's leading waste management providers. Covering many major towns and cities across England and Scotland, the company's fleet consists of various machines, including articulated haulers, tracked and wheeled excavators, and backhoe loaders. "One of our customers was contracted to work at a large recycling and resource management facility in East Ayrshire," says Graeme Hughes, Clearwater's contracts manager. "As such, they needed a 30-tonne class articulated hauler with a high capacity waste body. We discussed this with Grant Maclaine from TDL Equipment – Terex Trucks' UK dealer – and quickly established the Motherwell-based factory could design and build a bespoke dump body for us." 
"Given that waste material is generally much lighter than muck or quarry stone payloads, we were able to increase the TA300's standard heaped carrying capacity from 17.5 m3 to an impressive 27.7 m3 – which equates to an estimated payload of just 12 tonnes of low density waste," says Grant Maclaine, TDL Equipment's regional sales manager for Scotland. "This additional carrying capacity helps to lower the cost per cubic metre moved. We also added a large dump body canopy, similar to that found on a rigid hauler, to increase safety."  
The Terex Trucks TA300 articulated hauler was recently updated with a new transmission, leading to improvements in fuel efficiency, performance, productivity and operator comfort. It is powered by a fuel efficient Scania DC9 engine. The machine produces 276 kW gross power at 1880 Nm. Its fuel efficient engine range is globally emissions compliant and meets the requirements of EU and North American legislation without the need for a diesel particulate filter (DPF). This is achieved via the latest generation selective catalytic reduction (SCR) technology, combined with exhaust gas regeneration (EGR) and a variable geometry turbo (VGT).
Thanks to the fully enclosed, oil-cooled, multi-disc brakes at all six wheels, the TA300 is perfectly suited to applications in which there are exposed moving parts – such as at a recycling and resource management facility. Secondary braking is supplied by both the engine brake and the transmission retarder, giving the operator maximum control. This provides improved safety and stability, as well as reduced cost of operation and minimum brake wear.