Reliable partner
Service app provides global support 24/7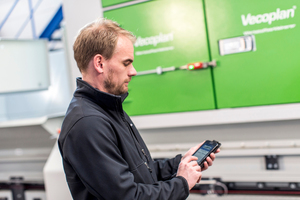 Credit/Quelle: Vecoplan AG
With the new app from Vecoplan, the user can contact the service team quickly, easily and directly via his smartphone
Credit/Quelle: Vecoplan AG
Vecoplan AG has developed 'Live Service' to get machines up and running again quickly in the event of a fault. This Industry 4.0 maintenance tool, which is unique in the sector, provides users with immediate online support. Vecoplan has now extended this service tool with the addition of an app. With this app, customers can contact the service team quickly, easily and directly via their mobile devices – globally and 24/7. This ensures high availability of all machines, and, with the Westerwald machine builder, customers have a reliable partner at their side.
The new app is part of Vecoplan's Live Service package and can be downloaded free of charge using the iOS and Android operating systems. After approval, customers can trigger a request at any time. Thanks to the Live Service link, all data relevant to the machine components, such as filling level, speeds, operating hours, drives and current consumption, are displayed on the smartphone or tablet. This gives the responsible plant superintendent or works manager an overview of all system functions, enabling him to monitor them and take action in good time. Important documents, such as the operating manual, can also be accessed via the app.
The application can also be used without the Live Service package. This places customers in the comfortable position of being able to respond immediately in the event of operating faults and to trigger a request without delay. The app also makes it possible to communicate online, to provide detailed information on existing faults and to upload photos directly. The service team is therefore well-informed and is able to act immediately. With or without the package, once he has initiated his request, the user is informed without delay of its progress and how long it will take.