Efficient scrap handling
Schrott Wetzel GmbH invests in environmentally friendly port colossus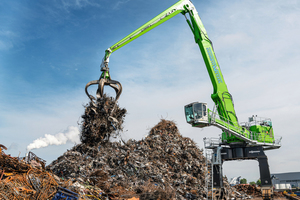 © Sennebogen
With a reach of up to 29 m, the 875 E Hybrid enables scrap handling and ship loading to be carried out efficiently
© Sennebogen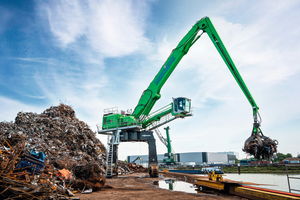 © Sennebogen
Thanks to the Green Hybrid technology, energy savings of up to 50 % are achieved
© Sennebogen
Mannheim-based Schrott Wetzel GmbH has invested in a new 875 E Hybrid material handler from SENNEBOGEN for efficient and fuel-saving scrap handling. The green port colossus with crawler gantry undercarriage was delivered by Schlüter für Baumaschinen and is intended to help the scrap supplier optimize its scrap and cargo handling under environmentally friendly conditions.
Schrott Wetzel GmbH values sustainable management
Schrott Wetzel GmbH is a family-run company that has established itself as one of the leading providers in scrap processing and recycling since the early 1950s. Schrott Wetzel GmbH obtains its material from the regions around its own sites, within a radius of 150 – 200 km. After sorting, processing and loading, the scrap is then transported by ship to consumers or to the company's own deep-sea terminal in Ghent/Belgium. The deep-sea orders reach consumers all over the world. For years, Schrott Wetzel GmbH has paid special attention to the environment and has therefore made the responsible use of limited raw material resources an important duty.
Making two into one: 875 E Hybrid replaces two material handlers for ship loading
In order to guarantee efficient and raw material-saving work in the scrap yard as well as during ship loading, the warehouse handling must be designed as optimally as possible. In the past, Schrott Wetzel GmbH sometimes loaded ships with two material handlers. However, this method proved to be very inefficient, as the scrap had to be spread over a wide area due to the short reach of the material handlers so that both machines could access the ship. Thus, valuable storage space for ship loading was unnecessarily occupied. Therefore, the company led by Managing Director Dirk Sauter set out to find a machine that would replace both material handlers and at the same time optimize ship loading. With the 875 E Hybrid from SENNEBOGEN, the ideal machine for all requirements was found.
Special equipment of the 875 E Hybrid for more load capacity and safety
The SENNEBOGEN 875 E Hybrid is the ideal machine for challenging port handling. Thanks to a 391 kW engine complying with the latest Stage V emission standards and a long reach of up to 29 m, ships are loaded or unloaded quickly and efficiently. At the request of Schrott Wetzel GmbH, the "Port" type K29 equipment was installed: This is a port stick built of high-strength steel, which achieves higher load capacity due to its lower deadweight. For best visibility even in bad weather, additional cameras and LED headlights were mounted on the material handler, and an additional ballast of 2.7 t on the counterweight ensures high stability on the dock.
SENNEBOGEN 875 E Hybrid: Up to 50 % energy savings thanks to Green Hybrid technology
However, managing director Dirk Sauter was most convinced by the Green Hybrid technology installed as standard. With the innovative SENNEBOGEN Green Hybrid energy recovery system, up to 50 % energy can be saved compared to conventional concepts. The principle is simple to understand. A third hydraulic cylinder, placed centrally between the two lifting cylinders, stores energy in compressed gas cylinders when the boom is lowered. This stored energy is then available again for the next lift. The concept can be compared to a spring that is compressed and then gives off its energy again when it is released. With the correct system bias, around 50 % of the power actually required can be substituted, thus saving energy costs on a large scale – ideal for use in ports.
Dirk Sauter is fascinated: "We looked at various options for our port and finally ended up with the 875 E Hybrid from SENNEBOGEN, because in addition to all the requirements needed for cargo handling, it also meets our environmental concerns. Thanks to the installed Green Hybrid energy recovery system, we also save even more fuel and CO2. Our focus is on being CO2 neutral and reducing our fuel consumption, and the machine definitely contributes to that."