Wide range
Recovery of solvents in a new distillation plant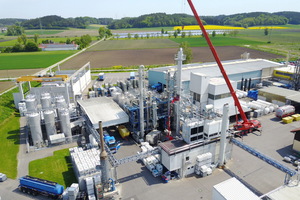 Credit/Quelle: Richard Geiss
Richard Geiss GmbH has invested nearly 2 million € in the latest expansion phase of its fractionating columns in Offingen
Credit/Quelle: Richard Geiss
Recycling in its purest form: Richard Geiss GmbH has now put a total of € 1.9 million into the latest expansion of its solvent distillation plant at the company's home location in Offingen, near Günzburg.
After four years of preparatory work on planning, development and installation, the solvents specialist has now commissioned two new distillation columns for processing of halogen-free solvents and thus not only raised capacity, but simultaneously penetrated new markets. "Investing in recycling also means investing in the environment and in sustainability. These new columns enable us to process 7000 t of solvents more every year than previously. And that means that 7000 t less of new solvent need to be produced each year," notes Bastian Geiss, managing partner at Richard Geiss GmbH.
The installation of the new distillation facility was a vital necessity for the quality Bavarian supplier, one of Europe's leaders in the field of solvent recycling. They enable Richard Geiss GmbH not only to recycle a broader bandwidth of substances, but also to guarantee at the same time even greater distillate purity. Downstream the recovery process, the Offingen plant now produces recyclates that can scarcely be differentiated from fresh product. Halogen-free solvent distillation capacity at Richard Geiss GmbH has risen from 12 000 to 19 000 t/a. The expansion project implemented by the family-owned company also included further enlargement of the laboratory, analysis and logistics sectors, and also the vehicle fleet.
"Everything is going to plan. We all at once found for both plants the right media that allow a very good level of capacity utilisation for the new distillation columns. Recycling rates are rising significantly across Europe, and demand for distillation and contract-processing is high. We are now optimally equipped to meet this trend", says Bastian Geiss in an initial summary. The family-owned company has now concentrated on the reprocessing of high-purity solvent distillates and their return to a well functioning circular system for a total of three generations.
"The plant is intended primarily for the recycling of used product, in other words, contaminated solvents. The first order that we are processing in the plant is not a recycling job, however, but instead the distillation of fresh product for use in the hygiene sector. Our customer has implemented a restructuring programme and can no longer distil his solvents internally. We now do this for him, as his extended workbench, so to speak. We refine his fresh product in our ultra-modern facilities, and our distillation process assures an even higher level of purity for it," Geiss affirms. Both recyclers and producers of new solvents can therefore now make use of Richard Geiss GmbH's contract-distillation services, in order to balance out peaking demand and shortfalls in their own capacities in both reprocessing and production of new solvents.
Thanks to the new columns, Richard Geiss GmbH is now able to offer its customers even higher distillate purity. Solvent drying previously took place in the preparation process in a sequential arrangement, now it takes place in parallel. "That means that we achieve totally continuous drying and an even higher vacuum – and that is decisive for the quality of the distillates. We weren't able to dry our solvents to this extent using the old columns," Geiss emphasises. Improved drying has beneficial effects on purity, and thus on solvent quality. The purity of the ethanol solvent recycled at Geiss has risen from its previous 94 to 99.9 %, for example. The 94 % ethanol produced in the past was used almost exclusively in winter, for antifreeze. Now the recycled ethanol, thanks to its new and higher commercial quality of 99.9 %, can be used the year round in virtually all sectors.
Another benefit of the two new distillation columns is the broader bandwidth of substances that can be distilled using them. "Our new plant is almost a real all-rounder, we can use it to distil nearly all products – with the exception of acid-containing solvents. That gives us enormous flexibility, and we can switch products quickly while we are working on orders, during our so-called campaigns: one week we can be reprocessing one type of solvent, the next week another," the managing partner affirms. This brings enormous benefits in particular for customers who use a range of different solvents and therefore need different recycling campaigns. Such companies now no longer need to work with a series of different specialist service-providers, and instead have a single contact for the entire bandwidth: Geiss.
In addition to its solvent reprocessing installation, Richard Geiss GmbH has also expanded its analytical laboratories and invested in an XFA instrument and a new spectrometer. "We're now among the front runners in analysis and the definition of substances. We can even identify critical substances, which we previously had to send to an external lab for analysis," Geiss emphasises. Significantly more parameters can now be determined at the company's laboratory in Offingen. The distillates can therefore now be defined to meet the specifications of new solvents. "Our new analysis capabilities now enable us to show our customers in black and white that our distillates are just as good as new product," Geiss continues. In many cases, these distillates can also be used in critical applications.
This traditional company's expansion project also included additions to its fleet of vehicles. There are now a total of seven tankers in service, against the previous four, and new container trucks complete with crews have also been added. The company's customers can therefore now be reliably supplied on time, every time, with fresh solvents, and their used solvents collected for recovery. This assures process certainty. "Many other solvent suppliers can offer nowhere near this logistics service, they're dependent on external freight carriers. That can cause bottlenecks, and ultimately it's the customer who suffers. But with us he can be sure of spot-on just-in-time delivery," Geiss stresses.
Thanks to its technology, analytical facilities and know-how, Richard Geiss GmbH and its high-purity distillates now compete not only with other recyclers: the specialist from Offingen is also capturing market shares from producers of new solvent. "Our distillates really are so good that they are often traded as new product," enthuses the recycling expert. As a result, recyclates are now also increasingly coming into use in applications that were previously reserved solely for new solvent. THF (tetrahydrofuran) and NMP (N-methyl-2-pyrrolidone) are used, for example, in the adhesives and paints/coatings sectors.