Efficient recycling
New non-ferrous separator recovers high-quality secondary materials from construction waste
With the acquisition of a new non-ferrous separator at the Weikersdorf landfill site in Wiener Neustadt, Rohrdorfer is taking a further step towards promoting the circular economy and reducing environmental impacts. With the "EddyC Move" from the Steinert company, high-quality secondary materials have been recovered from construction waste since mid-2022. In this way, around 100 t of ferrous and non-ferrous materials can be recovered per year and processed for reuse.
The Weikersdorf landfill, which is operated by Rohrdorfer Umwelttechnik, is considered by experts to be one of the most exemplary landfills in Austria. Construction waste and excavated soil are delivered from a radius of about 40 km and recycled or landfilled by Rohrdorfer. Before landfilling, recyclable materials are removed and recycled. With the new separator, the recovery of ferrous metals and non-ferrous metals will be even more efficient in the future. "The Steinert EddyC Move has proven itself very well in the first few months and has already recovered around 20 t of metals since it was put into operation," says Roman Höbinger, Managing Director at Rohrdorfer Umwelttechnik. "These can be reused as secondary materials and save valuable primary resources elsewhere - a real win-win situation for people and nature."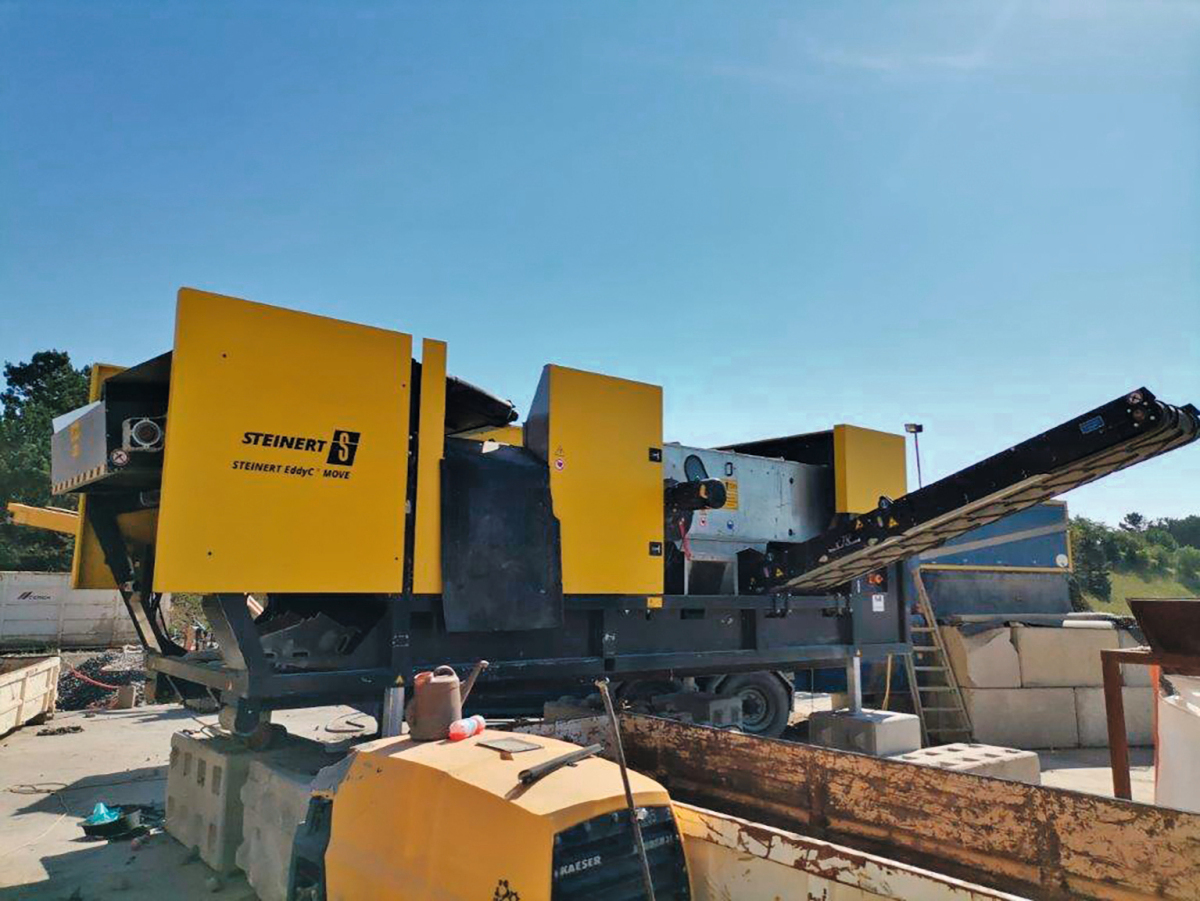 The Steinert EddyC Move in action at the recycling yard in Weikersdorf
© Rohrdorfer
The Steinert EddyC Move in action at the recycling yard in Weikersdorf
© Rohrdorfer
Functional principle of the non-ferrous separator
The "Steinert EddyC Move" is a mobile non-ferrous separator that makes use of the susceptibility and electrical conductivity of the material flow and separates non-ferrous metals such as copper, brass or aluminium from ferrous metals such as screws or nails. A feed size of up to 300 mm is permissible. The heart of the machine is the eccentrically mounted magnetic pole system with rotating neodymium-iron-boron magnets, which is adjustable and can thus be set specifically for the respective feed material.
The rotating permanent magnet system generates high-frequency alternating magnetic fields that create eddy currents in conductive non-ferrous metals. This force deflects the non-ferrous metals out of the material flow. The magnetic pole system is located in the head drum and is adjusted in such a way that the alternating magnetic fields are concentrated only on the detachment point of the conveyor belt, so that the discharge parabola is influenced to the maximum in order to increase the separation efficiency and maximise the economic efficiency. The plan is to use the new separator to recover around 100 t of secondary materials per year and feed them into an appropriate recycling process.