Successful retrieval
More than half a ton of lost fishing nets recovered
off Prora (Isle of Rügen)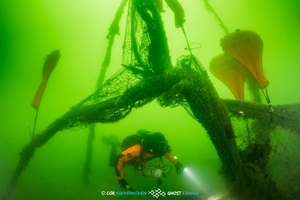 Credit/Quelle: Cor-Kuyvenhoven-Ghostfishing
Credit/Quelle: Cor-Kuyvenhoven-Ghostfishing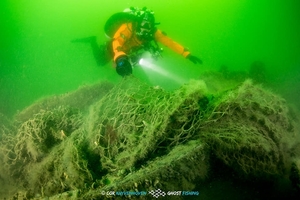 Credit/Quelle: Cor-Kuyvenhoven-Ghostfishing
In the Baltic Sea alone, several thousand nets or net remnants get lost every year
Credit/Quelle: Cor-Kuyvenhoven-Ghostfishing
Divers of the mission "German Baltic 2019", which started on 10 June, brought a trawl net of more than 30 m length from the bottom of the Baltic Sea on 11 June 2019. Overall, more than half a ton of lost fishing nets have been recovered off Prora (Rügen). Behind the mission "German Baltic 2019" stand the Society for Dolphin Conservation Germany (GRD) and the Dutch Ghost Fishing Foundation (GF). The campaign, which ended on 12 June 2019 for the retrieval of ghost nets, was mainly financed by TRIXIE Heimtierbedarf GmbH & Co. KG.
Ghost nets – underrated risk
Fishing nets, lost or intentionally disposed of at sea, turn into ghost nets. Due to their material characteristics, they have been killing sea animals of all kinds for many decades. Even whales and big sharks can get tangled up in them and die.
With more than 640 000 tons, ghost nets account for about 10 % of the waste that ends up in the oceans each year, according to estimates by the United Nations Environment Program (UNEP). In the Baltic Sea alone, several thousand nets or net remnants get lost every year. Meanwhile, ghost nets even pose a threat to shipping.
In the Baltic Sea, in particular porpoises, grey seals, seals as well as sharks and rays present off the coast of Rügen are threatened by ghost nets. Only 500 porpoises are living in the German Baltic Sea, which makes them the most endangered small cetaceans in Europe. Ghost nets directly threaten the survival of the population.
Ghost nets – fishing industry is in charge
"For the preservation of marine biodiversity, it is crucial to recover ghost nets. In future, however, this task should also be carried out or at least financed by the polluters", demands Verena Platt-Till, a graduate biologist at GRD, who was on Rügen as part of the mission" German Baltic 2019". The nets and net remnants now recovered off the coast of Rügen are recycled.
Further supporters of the mission "German Baltic 2019" include:
Seacraft Halcyon
Dive SystemsUrsuit Benelux
Tecline Nederland scuba-academie
Ammonite System Lighting and Heating Equipment
Subsupply divers equipment
Ratio Computers
Fourth Element
NOFIR - bringing value to marine waste