Turning up the volume
Increasing the production volume at RCS to 70 000 t rPET granulate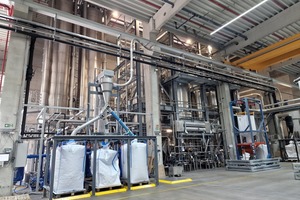 © RCS
EREMA developed the VACUNITE® bottle-to-bottle system with a throughput capacity of up to 6 t/h especially for the new RCS site
© RCS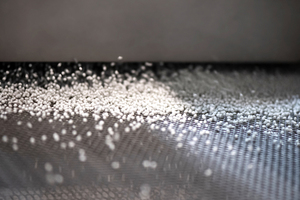 © Susanne Kästner
The rPET granulate produced meets among other things the FDA and efsa specifications for direct food contact
© Susanne Kästner
RCS, a medium-sized waste disposal and recycling company based in Werne/Germany, turns up its production volume 4.5 times by adding a second EREMA VACUNITE® bottle-to-bottle system.
In the summer of 2022, the second recycling system from EREMA went into operation at this group of companies. Following this purchase, the RCS Group increases output from 15 000 to over 70 000 t of rPET pellets per year. Just two years ago, the company expanded and began processing the PET flakes previously produced from deposit-returned bottles into high-quality recycled pellets for the food and beverage industry. To handling this demanding recycling process, the RCS Group built a second site to accomodate the EREMA plant, which was specially developed for this application. EREMA launched the VACUNITE® bottle-to-bottle system for the first time as a world first in the autumn of 2018. It is based on EREMA's proven VACUREMA® technology, combined with a vacuum-assisted nitrogen solid state polycondensation process (V-Lean SSP) developed by Polymetrix.
This process produces rPET pellets that meet FDA and efsa specifications for direct food contact as well as the even stricter regulations of well-known beverage brands. "Our analyses indicate that for all potential contaminants we achieve values that are significantly below our target values or are not detectable at all," says Alexander Rimmer, one of the managing directors at RCS Group. Reason enough for the company to invest in another, even larger system from the machine manufacturer.
The VACUREMA® unit on this second VACUNITE® bottle-to-bottle system features the new EcoGentle® plasticising system. It combines particularly gentle melt treatment with significantly reduced energy consumption, while achieving previously unknown throughput rates of up to 6 t/h. Measurements on a VACUREMA® Basic 2628 T system with EcoGentle® technology, like the one used at RCS, showed up to 12 % total energy savings (specific total energy consumption, kWh/kg) and 30 to 47 % energy savings for the extruder drive compared to VACUREMA® Basic systems without EcoGentle® plasticising.
"The decision to invest in another VACUNITE® machine was easy for us. The demand for rPET is increasing, the quality of the pellets has exceeded our expectations and the entire process from planning to installation and commissioning has been faultless," explains the Managing Director. In addition to the outstanding pellet quality, the system offers even more advantages. It uses 40 % fewer components and consumes significantly less energy than comparable technologies on the market. The entire production process of the EREMA VACUNITE® bottle-to-bottle system requires just 0.35 kWh per kg of rPET pellets. Sustainability and an environmentally friendly use of resources are among the principles of the corporate philosophy at RCS, which is why the low energy consumption is particularly beneficial.