Ecological transition – a European challenge
27.10.2022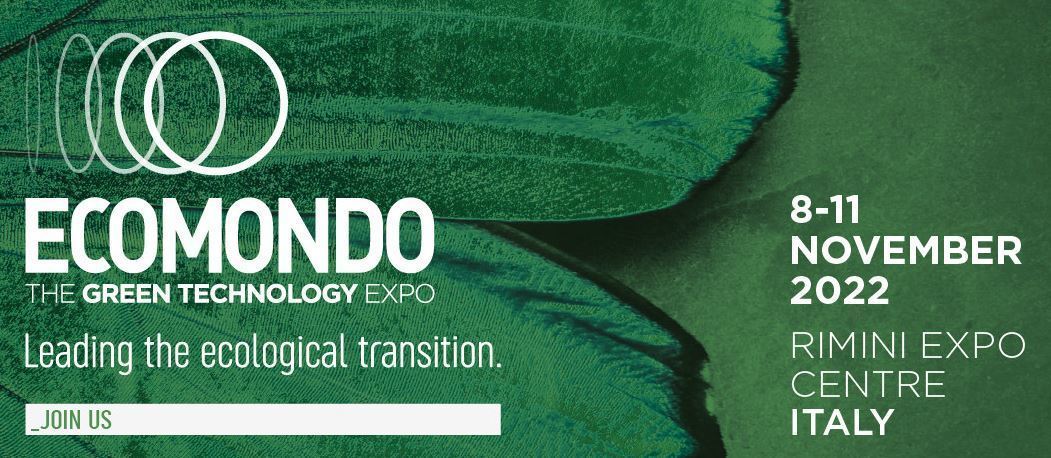 The ecological transition requires research to understand and meet the challenges of the current period in a timely and expert manner. These challenges include climate change and adverse events, the production of food and energy of sufficient quality and quantity, innovation, i.e. an effective transfer of available knowledge into technology and production processes that can ensure green, responsible and fair industrial development, robust and resilient infrastructure to test knowledge and innovation, but also observational and monitoring systems, collection, management and sharing of information and data.

Ecomondo facilitates dialogue on these issues by organising international events dedicated to sustainable and regenerative innovation developed with the European Commission, the OECD, a number of European and international macro-regional partnerships, and the Agency for the Promotion of European Research.

Transition towards carbon neutrality

The transition from fossil fuels to a future based on renewable energy and carbon has begun. The path, relatively well-defined in the energy sector as demonstrated by the current success of solar and wind technologies, also includes sectors such as the chemical industry; a great opportunity for carbon capture and utilisation (CCU). The workshop reviews the progress made so far by the carbon management project launched by the OECD's Bio-, Nano- and Converging Technologies (BNCT) working group.

9 November 2022, 10:00 – 13:30

EU funding for green projects – a world of possibilities

European Commission representatives present mission, the work programmes and calls for funding of: the European Innovation Council (EIC), which develops and exploits technologies and innovations for international expansion; the European Climate, Infrastructure and Environment Executive Agency (CINEA), which implements parts of the EU funding programmes for transport, energy, climate action, environment, marine fisheries and aquaculture; and the European Research Executive Agency (REA), which funds research and innovation projects.

10 November 2022, 14:00 – 15:15

Earth Observation for Sustainable and Green Transitions

The pandemic, the conflict in Ukraine and the rise of new economies call for a redefinition of sustainable transitions from a climate and energy perspective through a transformation of circular economies supported by a data-driven approach, which is able to extrapolate valuable information to help us understand problems and implement the consequent policies, whether in agriculture, the bio & blue economy or bio-industry.

11 November 2022, 10:00 – 13:30

Innovative experiences of Circular economy and Blue Growth in the Western Balkans

The Western Balkans are involved in Interreg ADRION-funded projects through cooperation with sister agencies, institutions and organisations in the Adriatic-Ionian region, as well as in Horizon programmes, as strategic partners in R&I. This seminar analyses the results, best practices and experiences in the circular economy developed through transnational cooperation, explores specific cases and highlights the links between the circular economy and blue growth.

11 November 2022, 14:30 – 18:15

Want to learn more about European calls for proposals to fund your next innovation in the circular economy? Book your one-to-EU meeting with experts from European agencies: CINEA, EISMEA and REA.

Other European Commission Initiatives:

Cluster meeting: Horizon 2020 and Horizon Europe projects contributing to the EU Plastics Strategy

Pitch session with EU funded projects with sustainable solutions

GREEN ASSIST – The new advisory initiative to make your investments greener

Registration is open for the events organised by the Scientific Technical Committee! Select the event you wish to follow and book your place.