Expanded and upgraded
The new IFE Test Center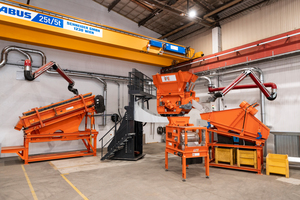 © IFE Aufbereitungstechnik GmbH
Conveying, screening and magnetic technology – material tests are carried out across all IFE product lines
© IFE Aufbereitungstechnik GmbH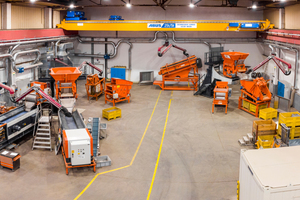 © IFE Aufbereitungstechnik GmbH
In the new 700 m2 building the machine park can now be flexibly arranged
© IFE Aufbereitungstechnik GmbH
Particularly in the recycling industry, facing numerous new material flows, material tests have become essential tools to reliably find the best material handling solution. The steadily growing number of inquiries is clear evidence for this trend. To fulfill these inquiries even more quickly and efficiently IFE's Test Center in Waidhofen/Ybbs has now been considerably enlarged.
Ever since its foundation over 70 years ago material tests have been an essential part of IFE Material Handling. Thanks to intensive efforts in the Test Center the internal wealth of experience has been constantly expanded and innovative approaches and creative solutions to new challenges in the fields of separating and conveying bulk material have been found.
Since then the need for material tests has steadily increased across all industries. Especially in recycling, an industry dealing with a broad variety of material flows, such tests offer a reliable source of knowledge. Currently, more than 200 tests are carried out annually in the fields of conveying, screening and magnetic technology. With the opening of the new IFE Test Center this number can now be further increased.
More space – more potential – simple processes for IFE customers
Moving to the 700 m² building does not only bring more space and more efficient processes. The flexible equipment pool enables the IFE team to respond optimally to a wide range of applications, customer requirements and numerous new material compositions. It currently consists of 37 machines and is constantly being expanded. These machines as well as two movable lifting columns with hopper feeder can be steplessly controlled via tablet. The Test Center is additionally equipped with two powerful extraction systems including several extraction arms.
Thanks to the expanded capacities material tests can be arranged promptly, they can be carried out quickly and costs can thus be saved. Simple processes make it possible to keep the administrative effort for customers extremely low. Customers continue to benefit from an overall analysis of their material handling process. The IFE test team takes a close look at how the respective material was treated beforehand and what requirements it must finally meet. Thanks to the team's broad know-how in process and application engineering, they can thus identify hidden potential and make recommendations for upstream and downstream process steps.
After the test has been carried out meaningful results e.g. on feasibility, throughput and mass distribution of generated fractions are documented in a detailed protocol. The resulting material fractions are returned to the customer so he can carry out his own analysis. Of course, the findings are also incorporated into the subsequent design of the respective IFE machines and recommended machine parameters are preset before they are handed over to the customer.
By now the first material tests have already been carried out in the new Test Center. With the expanded capacities and the flexible pool of testing machines the IFE test team is now well equipped and looks forward to finding long-lasting solutions for their customers' material handling tasks.