Coverstory 2|2017
New SRF treatment facility from Sutco® UK delivers "climafuel" for cement kiln operator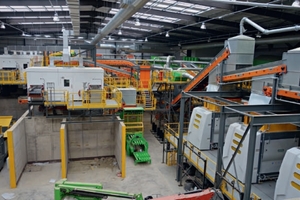 Credit/Quelle: Sutco® RecyclingTechnik GmbH
Once up to speed the plant will process 225 000 tonnes of waste per annum
Credit/Quelle: Sutco® RecyclingTechnik GmbH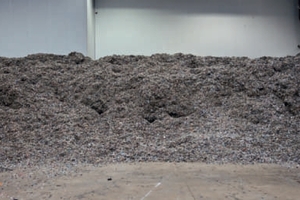 Credit/Quelle: Sutco® RecyclingTechnik GmbH
Changing C&I and MSW waste into SRF

Credit/Quelle: Sutco® RecyclingTechnik GmbH
Sutco® UK built a new a SRF production facility at Malpass Farm Rugby for its customer Sita UK to run alongside its facility at Landor Street Birmingham, as part of a 25 year contract to supply the cement kiln operator Cemex with a secondary recovered fuel (SRF) known as
" climafuel".
To enable the use of SRF in cement kiln ovens the fuel has to be of a very high quality standard, requiring very low moisture contents, a high calorific value and very low concentrations of PVC. Sita UK was therefore looking for a very experienced plant builder, who would be able to guarantee the production of such high quality SRF. Having proven these abilities before with a successfully operating plant at Landor Street, Birmingham they turned to the specialist waste treatment plant builder Sutco® UK for a second time, a 100 % subsidiary from Sutco® RecyclingTechnik.
Despite the success of the first plant Sutco® UK had to undergo a rigorous selection process first to prove that they can deliver the best concept for producing a quality fuel offering a compact and flexible design for a plant that will process 55 t/h of ever changing C&I and MSW waste into SRF over the next 25 years. Once up to speed the plant will process 225 000 tonnes of waste per annum.
The concept is based on recovering a maximum of combustible material, whilst keeping the moisture content low. At the same time the plant will also be able to recover valuable recyclables, such as ferrous and non ferrous metals and dense plastics. Material both bagged and loose is dropped on the reception floor of the building for processing. The material is sized correctly using various shredding and screening technologies. The heart of the process is a 3-way air box, which segregates the waste into light, medium light, and heavy material. Following this process the material is then perfectly prepared to be sorted into SRF, recyclables and residual waste using overband magnets, eddy current separators and NIR units.
Recyclable material such as ferrous and non-ferrous metals and dense plastics are recovered for re-use. The remaining high quality SRF material is shredded to a specific size before it is analysed using the latest NIR innovation. The NIR unit checks the Chlorine and moisture content as well as the calorific value of the SRF. This information is fed back to the control cabin where the system can make automatic adjustments by changing the type of material being targeted by the NIR units, thus ensuring the production of consistently high quality material to Cemex's strict requirements. The plant is guaranteed to have a minimum of 95 % plant availability treating 55 tonnes per hour of waste over two lines working in parallel. Through Sutco®'s long experience of providing this type of plant previously and by integrating equipment into the concept that has low maintenance requirements, together with choosing partners with the same uptime mentality Sutco® UK is able achieve greater plant reliability and availability. Sutco® UK started the build in September 2014 and the plant was completed and fully operational in February 2015.