EREMA Group
New recycling systems, new services, new applications
This year's K focuses entirely on the topics of digitalisation, climate protection and the circular economy. For the EREMA Group – which has been actively promoting plastics recycling technologies as well as bringing together the key players in the value chain since the company was founded 40 years ago – K is a perfect showcase. Both at the trade fair stand, which exhibits all the companies within the group and their products, and at the Circonomic Center in the outdoor area. Here, the EREMA Group's cooperation projects and live recycling demonstrations show what great progress the industry has made in terms of the circular economy.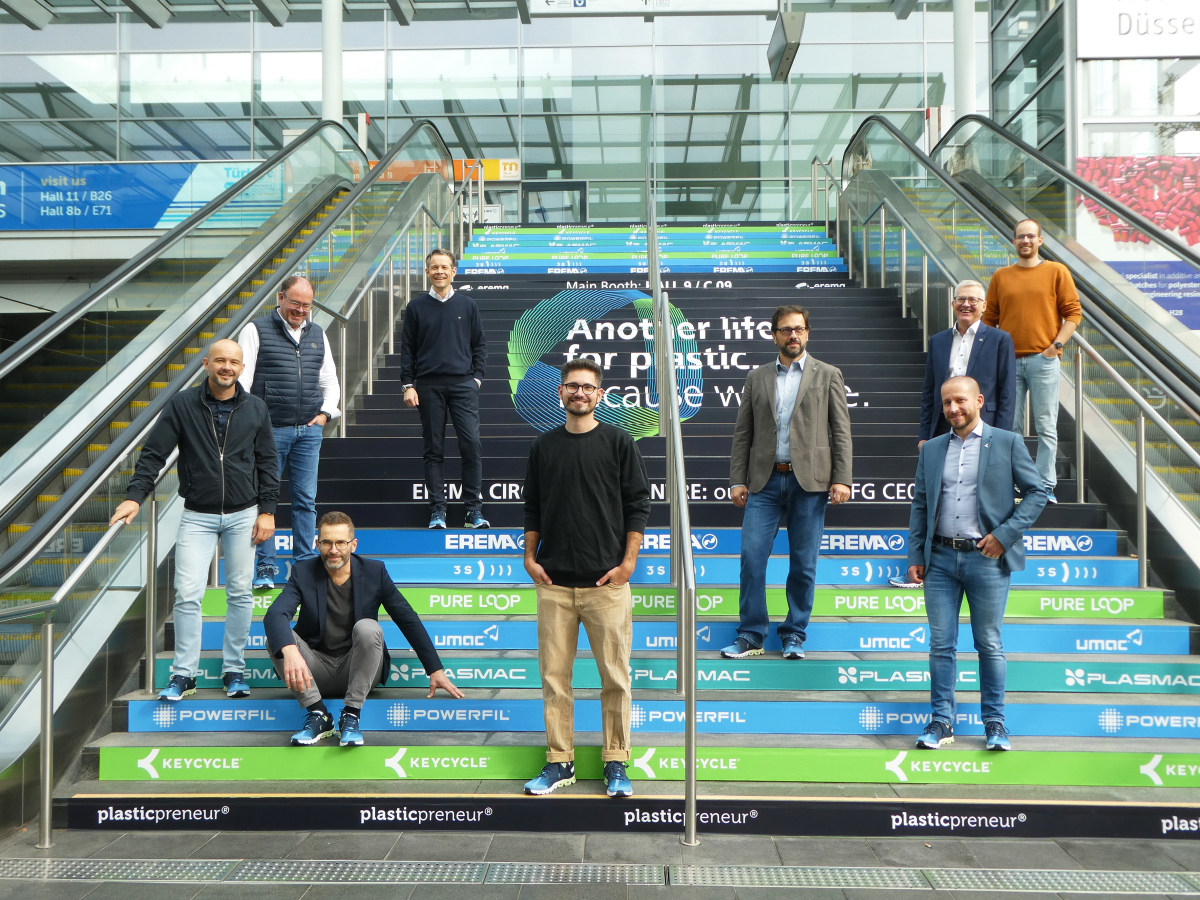 © Erema "Our mission 'Another life for plastic, because we care', is also our tagline at this year's trade fair. This underlines what the EREMA group of companies will be showing plastics industry insiders and all other visitors to the trade fair: That technical progress and working together make it possible to implement a circular economy," said Manfred Hackl, CEO EREMA Group GmbH.
Synergies within the group promote new developments
In Düsseldorf, the companies in the EREMA Group – which are EREMA, PURE LOOP, UMAC, 3S, KEYCYCLE and PLASMAC – will present their technological innovations, services and support at one trade fair stand for the first time. The latest addition, start-up PLASTICPRENEUR, in which the EREMA Group recently acquired a stake, is also present at the Circonomic Center.
The focus of the group's trade show presentation is on new recycling systems and components to meet a wide range of customer needs and quality specifications. EREMA will introduce EcoGentle®, a new plasticising technology for its PET recycling systems that significantly reduces energy consumption and features impressively gentle treatment of the melt. For particularly challenging post consumer materials such as supermarket packaging films, the recycling machine manufacturer is launching its proven INTAREMA® TVEplus® technology in a new DuaFil® Compact configuration. This compact double filtration machine produces double-filtered, ultra-fine quality recycled pellets. Another new machine concept, which is ready for use as a demo unit at the company's test centre in Austria, is presented as PCU TwinScrew. This is the name EREMA has given the direct combination of its patented PreConditioning Unit (PCU) with a twin-screw extruder.
EREMA's Powerfil business unit will present the new Laserfilter 406 with a 50 % larger screen area, and at 3S – the manufacturing professional for extrusion key components - it will be possible to see how a new type of cylinder enables ultrasonic wear measurements and how a new extruder screw manufacturing technology leads to more efficient production.
For customers looking for rapidly available recycling systems for simple applications, EREMA Group subsidiary UMAC has an innovation in store. While the company has so far specialised in refurbishing and trading in previously owned equipment, it is now expanding its business area and in Düsseldorf presents READYMAC, a standardised, prefabricated recycling solution that can be produced from stock, based on proven EREMA TVE technology.
For the inhouse recycling segment, PURE LOOP and PLASMAC rounds off the wide range of machines offered by the group of companies with their product portfolio. Both companies will demonstrate live at the EREMA Group stand the input streams for which their systems are suitable and the quality of recycled pellets that they produce. The group subsidiary KEYCYCLE will provide information about a new deinking solution for recycling printed film. This enables printing ink to be removed in a process step upstream of extrusion.
"While we have much that is new in terms of hardware - we also have new software," says Hackl. This features additional digital assistance systems that are now available to machine operators on the BluPort® customer platform. With the PredictON app, for example, imminent malfunctions can be detected based on continuous measurement and evaluation of machine data so that the cause can be remedied in good time.
Chemical recycling, fibre and textile recycling
The EREMA Group is also making it clear at K that they are intensively investigating plastic waste streams for which there is currently no satisfactory recycling solution. "CHEMAREMA® is a new series we have developed for mechanical material processing as part of the chemical recycling process," says Hackl in introducing another EREMA innovation. Mechanical processes are often at the beginning of the process chain for chemical recycling to prepare input streams and ensure a reliable, continuous and energy-efficient flow of feed material. CHEMAREMA® is an extrusion technology that can be adapted to the application requirements for preparing feed material for downstream chemical processes.
By combining proven recycling technologies featuring ultra-fine filtration systems with an additional IV optimiser, EREMA now also offers a solution for turning PET fibre production waste into rPET fibres for higher-value end applications. The rPET can be used 100 % in the production of ultra-fine fibres of up to 2 dtex. This is the result of development work at the company's newly established Fibre Recycling Centre, where customers can test their own fibre material.
Live recycling and lighthouse projects at the Circonomic Center
In the outdoor area at K, EREMA will this year again present live demonstrations of plastics recycling in conjunction with cooperation partners. Different waste streams are processed for this purpose. PLASTICPRENEUR, the latest member of the EREMA group of companies, will be there to demonstrate its mobile recycling solutions for entry-level access to plastics recycling. The wide variety of high-quality applications for recycled pellets are showcased in the "products made of recyclate" exhibition, ranging from technical components to consumer goods and food packaging. Manfred Hackl is certain that the Circonomic Center will once again prove to be a major attraction this year, because "here we make the circular economy accessible from a wide variety of perspectives in the truest sense of the word."
Visit ...
... the EREMA Group companies in Hall 09, Stand 9C09,
... the EREMA Circonomic Center in the outdoor area, Stand FG-CE03