Closed loop
Acclaimed partnership for HBCD-polystyrene recycling
The disposal of HBCD-containing polystyrene is on the verge of a real breakthrough. Thanks to a new recycling process and close cooperation over the entire value-added chain, as part of the PSLoop initiative, a closed cycle for polystyrene produced between the 1960s and 2013 has been realized for the first time. Over this period, the flame retardant Hexabromcyclododecane (HBCD) was commonly used, but in the meantime this has been classified as being hazardous to health and may no longer be used.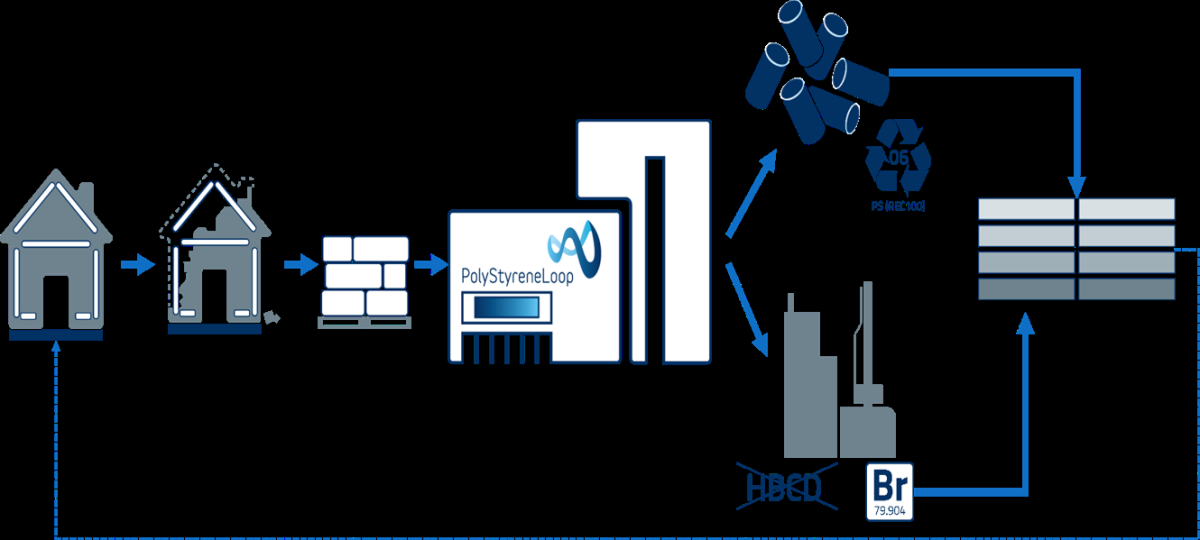 Closed loop system
© Polystyrene Loop
Closed loop system
© Polystyrene Loop
"PolyStyreneLoop puts the circular economy into action!" is therefore also the verdict of the Netherlands Blue Tulip Awards for exceptionally innovative ideas and have recently declared the European industry initiative as winner in its "Climate" category. In the framework of PSLoop, more than 70 members and supporters from more than 18 countries have teamed up to fundamentally rethink the process chain from the removal to the recycling of polystyrene. Focus is a physical recycling process that recovers a high-grade reusable polystyrene recyclate from the HBCD-containing material. This can be reused as a starting material for plastics-based insulating materials. In a further step, the HBCD is destroyed without trace and any bromine produced recovered. Accordingly, PolyStyreneLoop closes two loops at the same time. A pilot plant is currently being set up on industrial scale in Terneuzen in the Netherlands. This will be ready to start up from spring 2021 and can process 3300 t HBCD-containing polystyrene per year.
GWG takes over collection and processing
as a hub
So that HBCD-containing waste can be fed to the processing plant, this must be first properly collected, pre-treated and transported to the plant. GWG, part of the Hagedorn group of companies, is currently one of only two hubs in Germany that will undertake the collection and processing from one source in future.
"From September 2020, we are starting with the collection and processing of HBCD-containing polystyrene for PSLoop," explains Frank Kramer, Managing Director at GWG. "With this cooperation, we are offering our customers all over Germany one of the first truly sustainable waste stream management systems for this waste."
From the construction sites, the HBCD-containing polystyrene is transported to GWG's 8000-m² treatment facility. It is important that the material is already separated from other impurities such as building rubble, wood or roofing felt during removal at the construction site.
Any remaining impurities are removed at GWG by hand, with an excavator and/or mobile air separators. With innovative technology, the (almost) unmixed material is compacted into easy-to-handle blocks. First, an efficient primary crusher with two shearing knife shafts shreds the HBCD-containing polystyrene into pieces measuring 20 – 50 mm. A fully automatic mobile press enables the production of highly compacted blocks (volume reduction up to 30:1). These dimensionally stable blocks are stacked on pallets and, after notification by GWG, they are transported to the Terneuzen plant in the Netherlands.
"So that PSLoop becomes a success all over Europe, we need strong and reliable partners like the Gütersloh Recycling Centre," explains Alix Reichenecker, Circular Economy Manager at PSLoop. "With their logistics network and their expertise in waste disposal, they ensure that the material is collected, processed and delivered to us with acceptable quality."