Business partners
International cooperation exchange at the RECYCLING-TECHNIK in Dortmund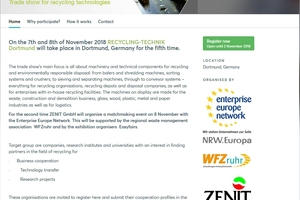 Credit/Quelle: https://recycling2018.b2match.io
For trade fair visitors who want to establish international business relationships, who are looking for technical cooperation, for example, for the transfer of technologies, looking for a distribution partner or are interested in participating in EU research or other projects, there will be a cooperative exchange at RECYCLING-TECHNIK Dortmund for the second time.
The NRW.Europa ex­perts at the Center for Innovation and Technology in NRW, or ZENIT, for short, have been focusing on all these topics for more than thirty years, are backed up by a widely spread national and international partner network, and are thus exactly the contacts you need for all facets of cooperation projects.
That this works well was demonstrated last year by a Cooperation Exchange organised jointly with WFZruhr for the first time at the RECYCLING-TECHNIK trade show for recycling technologies in Dortmund. Around fifty cooperation profiles of companies and research institutions from thirteen countries were compiled in an online catalogue for this purpose. The fields covered included recycling, materials, the circular economy and waste management. More than seventy bilateral talks were held at the WFZ booth, giving players from industry and science the opportunity to explore the potentials for cooperation.
Thanks to the positive response to this new feature, this year's RECYCLING-TECHNIK – to be held from 7 to 8 November 2018 – will, on 8 November, again include a Cooperation Exchange.
Background
NRW.Europa is part of the Enterprise Europe Network, the EU-initiated network for internationalisation, the largest of its kind in the world. The consortium active in NRW, consisting of ZENIT GmbH, NRW.BANK and NRW.International GmbH, supports and links companies, universities and research institutions in, inter alia:
entering foreign markets
finding business and project partners
participation in European funding programmes, particularly in the field of research and innovation and
improvement of innovation management
Thanks to funding by the European Commission and the state of NRW, a major part of these services is available free of charge. The range also includes around 100 cooperation exchanges annually, at which participants meet potential business partners in pre-arranged talks. These bilateral meetings are organised on the basis of the cooperation targets and the participants' appointment schedules.
On-line catalogue of participants:
https://recycling2018.b2match.io/
Contact at ZENIT: Sabrina Wodrich, sw@zenit.de:sw@zenit.de%3C/a%3E"> / Benno Weissner bw@zenit.de:bw@zenit.de%3C/a%3E">